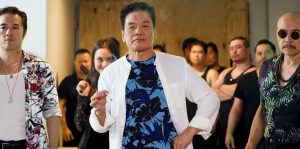 Vincent Chow (Jay Kwon) is a young Chinese man with a burning desire to be an Italian gangster named "Vinny" in James Lew and Robert Samuels screwball comedy, Made in Chinatown. He turns away from his Chinese heritage and culture in favor of the Italian mob because of his crush on Italian beauty Tina (Theresa Moriarity). To have the prospects and connections that would impress her, Vincent decides to convince the mafia that he has what it takes to become a "made" man. In New York, Little Italy is just blocks away from Chinatown, and Vincent sets his sights on making that move. 
As Vincent ingratiates himself into the mob, he must fight in a game of death to achieve his goals. Along the way, he learns important lessons from the Chinese elders, Knowledge (Geoff Lee) and Wisdom (Shing Ka), who dispense their insight from a grimy parking lot in an alley. Vincent spins through a wild array of adventures, from running olive oil into Chinatown to becoming an informant for the food safety department. His undercover role hinges on using the correct names for pasta.
Made in Chinatown owes a lot to the Micheal Keaton movie Johnny Dangerously and a spiritual debt to Big Trouble in Little China. Much of the humor comes from parodying Italian, Irish, and Chinese names such as Al Capella, Condimento, and Donny the Baker. Heck, Raymond J. Barry plays a crooked Irish cop named Sean O'Greedy. Of course, the best name-play is in the title, with a multiple-entendre reference to the phrase "made in China" and the idea of being a "made" man.
The characters are all broad stereotypes, with the Italians saying "fuggedaboutit" every few lines. Anyone asking about the character Hai Chu (Chi Ling Chiu) is immediately met with a "god bless you." Hung Phat (Meng Lo) throws out Buddhist koan pseudo-aphorisms that read as non-sequiturs, apropos of nothing, followed by manic laughter. He sounds like Roman Moroni from Johnny Dangerously.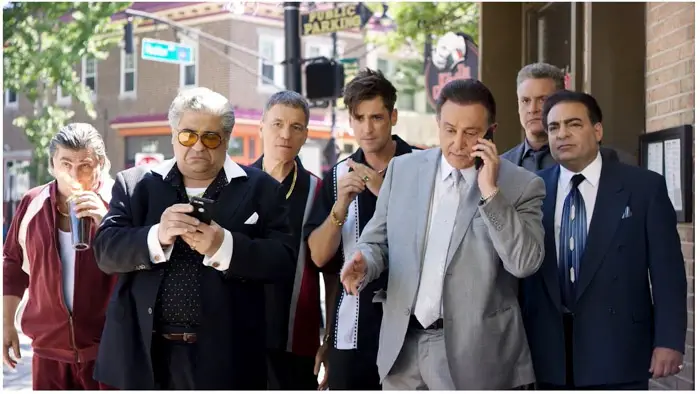 "…a young Chinese man with a burning desire to be an Italian gangster…"
The baddest fighter on the Chinese side is an effeminate gay black man named Lawrence, played by Emmanuel Brown. Brown is an accomplished actor and a trained martial artist, and his fights show it. As for more wacky hijinks, a food-themed running gag threads throughout Made in Chinatown. For example, all of the contraband black market products are things like olive oil and spices. So, of course, many of the names are food references, and the main character is named Chow.
Vincent's journey is a familiar one from a generation of similar cinematic themes. He desires the glamorous woman but ignores his wonderful best friend, May Wong (Shuya Chang), who fawns over him. His parents and community beg him to hew to the Chinese traditions and people. He craves something different. Frankly, for much of the narrative, Vincent is an a*s. He seems to disregard the criminal amorality of the Italian gangsters and turns to that life to escape boredom with his Chinese culture.
Made in Chinatown is great fun, but with a few uncomfortable moments when riffing on cultural stereotypes. It's the kind of humor you'd share inside a community but requires great care when sharing with outsiders. In this case, no one is safe. Nothing too offensive is said, but this style of humor is dated at this point. Whether you think they cross the line is up to individual taste. Lampooning mob, Chinese, and LGBTQIA culture is bold. Tony Soprano would watch this fluffy romp, laugh his a*s off, then go have a little "chat" with the directors.