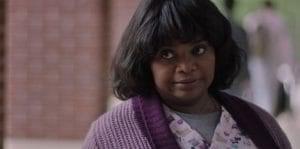 Ma is a movie that knows what it is precisely, what it wants to do and never tries to be anything more than that. Sometimes, that's just what one needs in a trip to the movies and the latest Blumhouse thriller, directed by Tate Taylor (The Help, Get On Up), leans heavily into its schlock value. The only thing setting Ma apart from your shopworn thriller is its weaponized main attraction: Octavia Spencer.
"…Ma's home becomes the hottest place to party in town."
As the movie begins, Maggie (Diana Silvers) is moving to a new town with her mother Erica (Juliette Lewis). The two seem close and eager to start a new life after Maggie's father leaves Erica for a new woman. Maggie is a bit shy, but a group of kids at school befriend her instantly, inviting her to a party, which she is reluctant to accept. Haley (McKaley Miller), Andy (Corey Fogelmanis), Chaz (Gianni Paolo) and Darrell (Dante Brown) like to hang out after school in secluded areas and drink but often have a hard time securing their alcohol. They force Maggie to stand outside a convenience store and convince patrons to buy their drinks. One woman, Sue Ann (Spencer), doesn't like to idea of them driving around drinking but ultimately gives in to their request.
Sue Ann continues to fill their drink orders and seems to enjoy helping the kids out. She brings them back to her house and shows them her basement and tells them they are welcome to park there any time, as long as they don't take the Lord's name in vain, spit on her floor and don't go upstairs. Darrell gives Sue Ann the titular nickname and Ma's home becomes the hottest place to party in town.
"No plot point may ever shock you, but Ma is happy to make you feel uncomfortable along the way…"
It's inherently weird that Sue Ann is hosting a houseful of teenagers and partying with them and watching the weirdness unfold is Ma's twisted pleasure. The film's trajectory feels familiar, and Ma doesn't really hold a ton of surprises but is a genuine scream-at-screen delight. Waiting to see what Sue Ann will do next is part of the fun, even if we know each scene is building on an expected path. No plot point may ever shock you, but Ma is happy to make you feel uncomfortable along the way.
The greatest pleasure the movie has to offer is a chance to watch Spencer perform completely unhinged and relish every moment doing so. Spencer has been living in supporting roles, earning three Oscar nominations in the Best Supporting Actress category, including a win for The Help, so the fact she gets to sink her teeth into a villainous role is satisfying to watch. An actress of her stature is able to bring pathos to a character designed to hate, which gives Ma an edge over your average thriller. Hopefully, this isn't the last time we see her lead a genre picture.
Ma (2019) Directed by Tate Taylor. Written by Scotty Landes. Starring Octavia Spencer, Diana Silvers, Juliette Lewis, McKaley Miller, Corey Fogelmanis, Gianni Paolo and Dante Brown.
7 out of 10