In the beginning, one might not be sure of what to expect, as Luxor appears to flirt with a documentary style using long contemplative and realistic shots. It then adopts an eerie mood announcing a psychological thriller about someone suffering from traumas. But the film stayed away from the usual war or PTSD thematics, and instead, Luxor transpires as a portrait of a broken woman looking to be mended, a way to live happily, and possibly even loved.
Impressively, it also shies away from an abundance of melodrama, so often associated with romance movies. Indeed, Luxor emerges as a poetic love story with melancholic and slow-paced inclinations that, unfortunately, cause it to drag in parts. At times the film can also sadly feel empty while only evoking emotions through those aforementioned contemplations of picturesque landscapes. On the other hand, when the film succeeds, it offers something profound and layered.
What really works is the combination of the very wistful mood and a wonderfully evocative yet subtle soundtrack, mirroring the visual aesthetics. For the look of Luxor, the filmmakers opted for a soft palette rather than a vivid one – that might have actually given the city its true color – as we see things through the prism of a protagonist affected by melancholia and blues; therefore things seem filtered.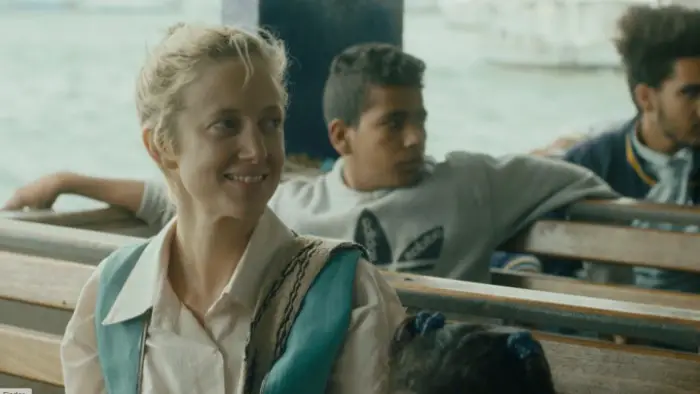 "…only evoking emotions through those aforementioned contemplations of picturesque landscapes."
Riseborough, who is probably one of the most under-hyped hard-working actors around, offers a nuanced, measured, and seemingly effortless performance. Hana's portrayal is a very authentic one, going all the way down to her wardrobe. She is always dressed like a "typical tourist" in comfortable clothes and thus is clearly not our cliched leading lady looking for herself, love, or a sign in exotic places.
In fact, and going back to the documentary aspect, the film aims for pure authenticity as most characters in the background seem real or genuine, from the taxi driver to a healer, or a Chinese family on holiday. On the other hand, Saleh's character feels much more romanticized or fantasized. Sultan is fully supportive of Hana, and this makes him almost too ideal. It is a somewhat interesting role reversal of the norm, even if it is not fully explored.
Although the film never falls hard into the mystical and spiritual that a place like Luxor and Egypt could easily provide, there are some mysterious elements to it. This is particularly true when Luxor culminates in a dream-like ending that was, to say the least, strange or odd. Quite frankly, that could easily describe the whole movie: a strange, hypnotic, romantic dream.
Luxor screened at the 2020 Sundance Film Festival and the 2020 AFI Fest.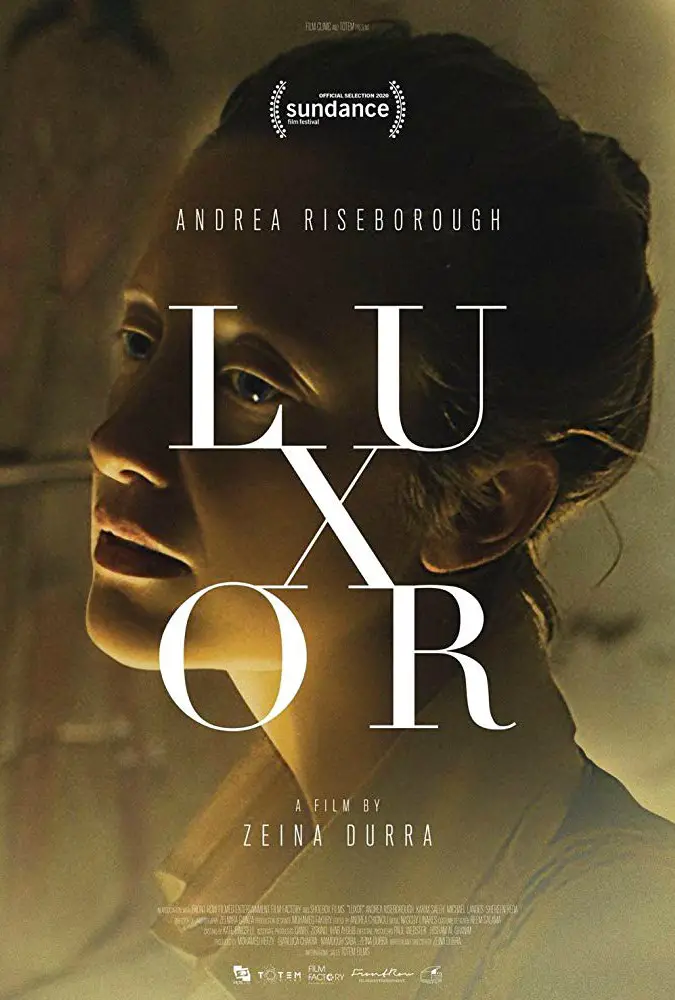 "…a strange, hypnotic, romantic dream."