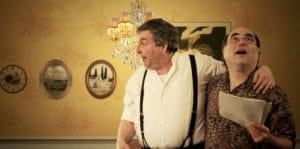 I was first introduced to Josh Kornbluth and his unique look at the world back in 2001, when I took a weird trip through the "Haiku Tunnel" with a nervous temp. For those folks that don't know it, here is a brief synopsis…
"Haiku Tunnel" is a frenetic comedy about a neurotic male secretary who is a terrific temp but a horrible perm. When his new boss gives him 17 very important letters to mail out, he doesn't, and complications bring him face-to-face with his weird personal demons.
Josh Kornbluth is a writer/actor that was raised in New York City and worked as a temp while supporting his love of autobiographical monologues. In 1989, he opened his first monologue, "Josh Kornbluth's Daily World" and has been going strong ever since. He has created and performed a series of solo shows, including "Red Diaper Baby", "The Mathematics of Change", "Ben Franklin: Unplugged", "Love & Taxes, "Citizen Josh, A"ndy Warhol: Good for the Jews?" (commissioned by the Contemporary Jewish Museum), and a multi-person show titled "Sea of Reeds".
"Love & Taxes" is directed by his brother, Jacob Kornbluth. Who is an award winning writer and director of feature films, TV, and theater. He has had 3 feature films premiere at the Sundance Film Festival –Haiku Tunnel (Sony Pictures Classics) and The Best Thief in the World (Showtime Independent) were narrative films, and Inequality for All (Radius / Weinstein) was a documentary. Inequality. In 2014 he worked on the Showtime series about climate change, Years of Living Dangerously, his work on that show won an Emmy.
"Love & Taxes is a comic tale of seven years of tax avoidance. Following the possibly real-life exploits of Josh Kornbluth. A tale of procrastination, making movies and growing…"
Love & Taxes is a sorta-sideways sequel/prequel to Haiku Tunnel in an all-compassing way. Yeah, it sounds confusing but it makes sense while watching. It is a great mix of a stage monologue combined with dramatizations covering certain events in Josh's life. At first I was caught off-guard by the flashbacks which are essentially the stage version of the film. It reminded me of Spalding Grey and his style of comedic autobiographical monologues. Just like many of Josh's other films and live shows, "Love & Taxes" has so much heart, so much cleverness and gives a wonderful glimpse into the chaotic life of an everyday office temp that just wants to find happiness.
Love & Taxes is a comic tale of seven years of tax avoidance. Following the possibly real-life exploits of Josh Kornbluth. A tale of procrastination, making movies and growing up. Despite working for a high-powered tax attorney, Josh hasn't filed his taxes in seven years. Josh had what he recalls as a blissful childhood with his radical parents, living "outside the system," and he has been clinging to that fringe identity for his whole life. But when his boss persuades him to join the system, almost mystically things start going well for Josh. His performing career takes off, his solo shows are "optioned" by major Hollywood studios, he and his brother Jake decide to make movies together – and he meets the woman of his dreams, Sara (without the H), and next all sorts of interesting events spiral into his life. "Love & Taxes" is a really cool romantic comedy also, showing us what it means to find love, when you are beautiful, neurotic, and care about punctuation in our world. We need to embrace our weird, and just be passionate about what we love… be it comics, video games, OR taxes. It is also, quite possibly, the first ever pro-tax romantic comedy.
So does filing your taxes and getting a refund mean you will find love and step into a larger universe? Who knows? File and find out.
Love & Taxes (2016) – Directed by: Jacob Kornbluth. Written By: Josh Kornbluth, Jascob Kornbluth Starring: Josh Kornbluth, Sarah Overman, Helen Shumaker
4 out of 5 – Federal Tax laws were broken, but in a loving and clever way.
Love & Taxes opens in limited release March 10th, 2017. Get more information on the official website.