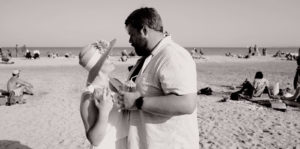 Writer/director Tony K. Hall's Lonesome is a stylized rumination on dating in the time of technology. Guy (Zach McLain) is looking for love in a city that looks like Milwaukee (where the filming took place). He's scouring online dating sites but is having no luck. His roommate Jim (Eric Halverson) suggests a day at the beach might provide a better setting for meeting people. Guy agrees and does meet a woman named Roxie (Amber DeRuyter).
Sparks fly, but in a frenzied romantic glow of day-drinking and hot air balloon rides, Guy and Roxie fail to exchange contact info. Guy looks online and searches the city for her. Not hearing from him, Roxie concludes it was just a one-day thing and that she won't see him again. But Guy doesn't give up, becoming obsessed with finding Roxie. Then he bumps into her friend reading poetry nearby.
Roxie should be at the reading but is running late. He posts messages in forums for missed connections and uploads pictures of them together at the beach. Guy sleeps under a Casablanca poster and dreams of his lost Roxie. He retraces his steps from their one day together in an effort to find clues to where she might be. The two star-crossed lovers seem to be fated to be apart. Will Guy find Roxie in a city of so many people?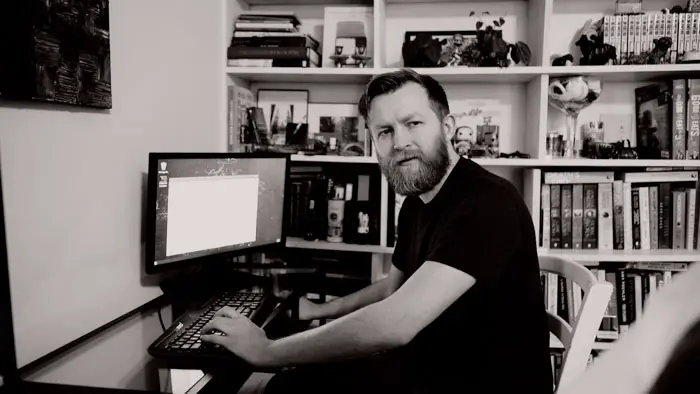 "Guy looks online and searches the city for her."
Lonesome is shot in black-and-white and features a surreal style. Hall also uses formatting from silent films, despite the film having spoken dialogue. The music calls back to the 1940s big band era for the most part. The film examines insights into the focus on mobile phones taking away from our in-person interactions, as well as what courting means in a modern metropolis.
The juxtaposition of techno-angst against the vintage film style makes for a strange anachronistic vibe. Meant to partly be an homage to the French New Wave, the film comes complete with a replica of the Eiffel Tower. Dialogue is minimal, and the action is stylized. Milwaukee serves as the ideal archetype city backdrop for the new/old tale. Hall's debut is both incredibly ambitious and, at the same time, charmingly minimalist. The performances inside the constrained space are wonderful. Each of the actors conveys their character's story concisely with less dialogue and more body language. This includes a last-act song by DeRuyter that tells us where Roxie is in her journey.
In his director's statement, Hall shares some of the challenges in making this truly Indie film. "Lonesome was filmed over 16 separate filming days over the course of 26 months from October 2018 to December 2020. Since the cast & crew were unpaid, and everyone involved already had regular jobs and contracted paying gigs – we got together when we could."
The one-hour-ish runtime of Lonesome is the perfect length to keep the viewers engaged in such an unusual presentation. I'm not sure there's a more damning critique than "clever film experiment," but in this case, it applies. This one works out to be a lovely cinematic experience of a sweet tale, well told.
For more information, visit the official site of Lonesome.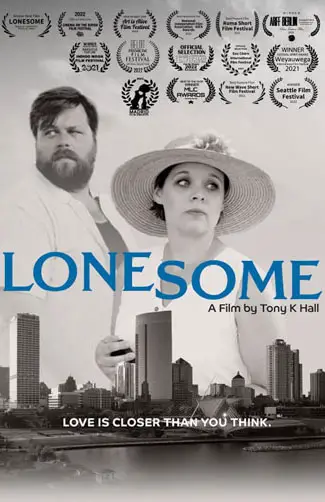 "…a lovely cinematic experience of a sweet tale, well told."