At times, due to the slightly esoteric musical score and the smooth and sweeping cinematography, the film impresses as if Godfrey Reggio's Koyaanisqatsi had been remade. Only now with a strong focus on a protagonist shoplifting from thrift stores, laundromats, and the food lines at the Dakota Access Pipeline Protests at Standing Rock.
Planik's performance isn't at all wooden, yet Lillian's interactions with the world around her paint her as an uninteresting protagonist. While we may fundamentally understand why she is making this journey and see the many physical challenges are thrown her way, her head-down-and-walk-through-everything attitude comes off mostly as passivity. Again, having a distant protagonist trying to insulate themselves from the rest of the world is not a bad approach, especially when someone is in Lillian's position. However, whether ghosting about in small communities or in the depth of the wilderness, we are never privy to any emotional stakes that she may be experiencing. It's essentially an observational documentary covering the vast expanse of North America, that just happens to have someone else along for the ride.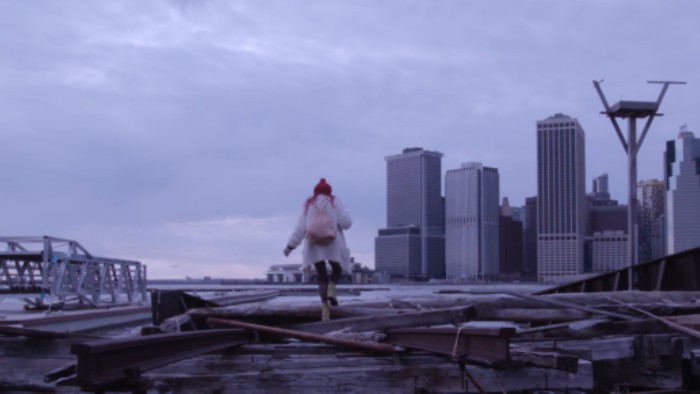 "…her head-down-and-walk-through-everything attitude comes off mostly as passivity."
I do understand that Lillian is somewhat based (and dedicated to) Lillian Alling, an actual woman who went missing in the 1920s on her trek across the continent to reach Russia. It also feels as if the film is a general call for a greater public understanding of those who go missing and are never found. While there are moments of introspection during which the film could have sold the human angle of its story, these moments often amount to very little. This all culminates in the film's final ten minutes becoming an utter slog that is almost entirely separate from everything else we've experienced, which leaves a sour taste.
I can honestly say this is one of the more divisive productions coming from the indie scene this year, being equal parts character study, road movie, video art, and landscape calendar shoot. While I do recommend that audiences give Lillian a gander, as there is much here to appreciate and debate, it is ultimately less than the sum of its janky parts.
Lillian screened at the 2020 Slamdance Film Festival.