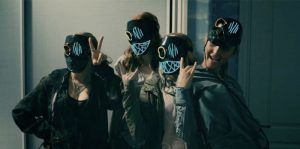 The first few minutes of Let's Scare Julie toss out a lot for audiences to chew on: there's a pranking posse of girls at a slumber party, an alcoholic father passed out downstairs, a gun stashed in the room, a girl with a secret past, a voodoo doll, an innocent sibling, a tale of a haunted house across the street, and a creepy girl who recently took up residence within.
It's enough to fill an entire season of Goosebumps, much less a 90-minute film. Add to this the decision of writer/director Jud Cremata to title the movie as a nod to the British cult horror movie Let's Scare Jessica to Death, and to film the action in one continuous take, and you have one hell of an audacious project for his first feature film foray.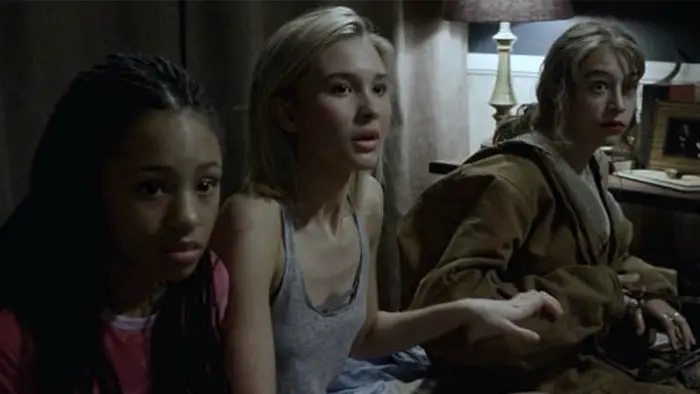 "…they somehow think breaking into her house and scaring her while wearing creepy Purge-like masks would be a far better welcoming gift than a cake…"
Emma (Troy Leigh-Anne Johnson) is a subdued girl who comes to live with her cousin Taylor (Isabel May) after Emma's pop suddenly dies. Taylor's dad, meanwhile, danced a little too hard with the bottle and passed out on the sofa downstairs, which led Taylor to invite her friends over for a slumber party.
The girls introduce themselves to Emma by literally scaring the breath out of her, causing her to reach for her inhaler in a coughing fit. As they all banter, we get a sense of the personalities within — the overbearing goofball Madison (Odessa A'zion), the instigator Jess (Brooke Sorenson), and the quiet tagalong Paige (Jessica Sarah Flaum).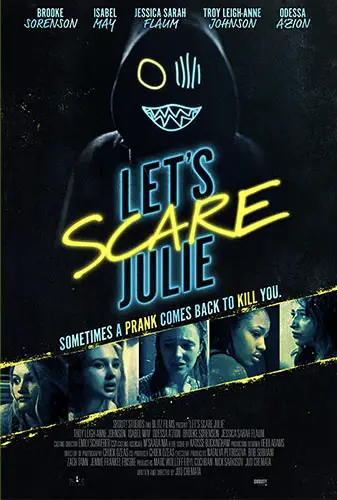 "…not only presented with Checkov's gun for this story but have an entire arsenal to ponder."