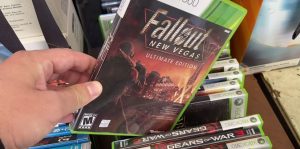 For those unfamiliar, Fallout is a science fiction, action, roleplaying franchise set somewhere in the 21, 22, or 23 centuries, depending on the specific game. The first one was released in 1997, with its sequel coming out a year later. In 2008, Fallout 3 was released to universal acclaim and winning tons of awards. Two years later, a spin-off titled Fallout: New Vegas was unleashed, and despite technical hiccups (the game would cause the system to crash on occasion, etc.), it still garnered positive reviews, and fans have come to consider it one of the best entries in the series. In the games, players can collect items such as bobbleheads or snow globes.
While more titles exist in the franchise, to understand the documentary Las-New: A Fallout Snow Globe Road Trip, that is all the video game history one needs. The rather unwieldy title follows Maxwell Scheller as he, accompanied by his parents, undertakes a journey to visit the real-world inspirations of Fallout: New Vegas. At each locale, he interviews people, mainly employees, about what they know of the action RPG, if they've met other fans, etc. The other thing That Guy With A Game Boy Camera does is hide snow globes he made based on New Vegas in as close proximity to their gaming counterpoint.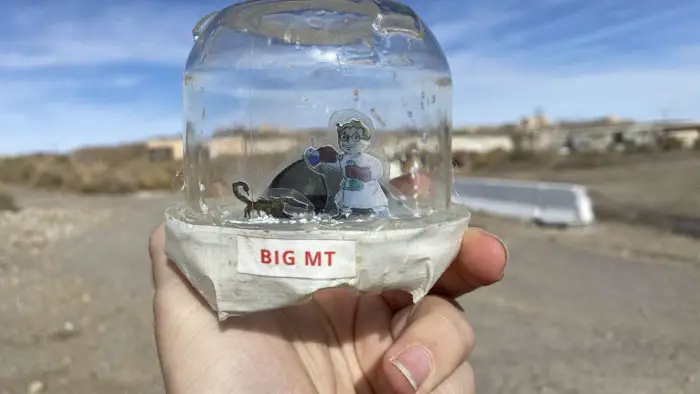 "…undertakes a journey to visit the real-world inspirations of Fallout: New Vegas…[to] hide snow globes…"
While Scheller is a fine enough host, the movie suffers from significant issues. Most notably, it lacks a purpose. For cinephiles who don't love the Interplay/Bethesda series, he fails to dive into its story, meaning that the import of the locations he visits is lost on them. Plus, aside from saying that he likes the story and gameplay, Scheller never explores what about the game inspired him to go on another snow globe road.
Yes, Las-New chronicles his second time doing this. Including DLC, there are only 11 snow globes in total, so he must be visiting a majority of the same places again, even if he did not create all of them last time, as he does here. Mind you, it is not as if he's going from game to game doing this for each one, visiting the important places of 2 or the D.C. wastelands of 3, hiding appropriately themed snow globes. Please note that snow globes are only a collectible in Fallout: New Vegas, but since these are homemade already, what's stopping a creative person from adapting them to the other games? And it's not like the first trip was so long ago that the filmmaker has gained a new perspective on life and is looking to reevaluate things as he undertakes his mission. No, they are slightly over a year apart: summer of 2019 and autumn of 2020.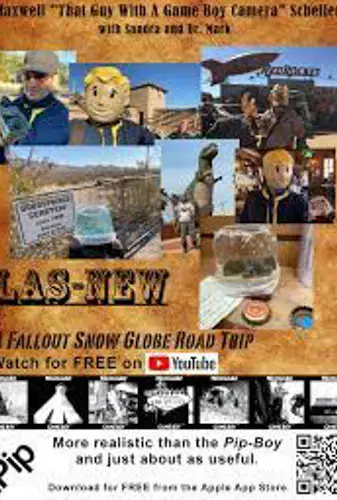 "…Fallout 3 is the absolute best..."