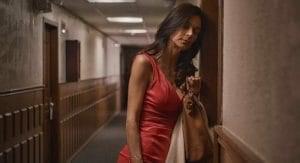 The debut film of Ecuadorian writer/director Gabriela Calvache, La Mala Noche (The Longest Night), is–in a word–bleak. To be fair, a film about a drug-addicted prostitute with a sick daughter and a sadistic mafia pimp probably shouldn't be all rainbows and puppy dogs. I have to hand it to Calvache for making this film as stark and uncomfortable as possible. Noëlle Schönwald plays Dana/Pilar, a long-time prostitute who is nearing the end of her run, so to speak. Her career began when she met Nelson (Jaime Tamariz), who she thought she was in love with, but it turns out he was a pimp/coyote.
At this point, Nelson has graduated to mafia boss and has a house full of women and girls that are for sale to the sickest highest bidder. Dana is still working and has been for a long time. The years have been tough, which is part of the reason she is now addicted to buprenorphine or "buprenorfina." There are a lot of my least favorite scenes of all time in La Mala Noche which, in case you were wondering, are scenes where there is a close-up of a person shooting up. She's lost arm veins, as happens in junkies, so we see her shoot up between her toes and on her thighs. On top of her addiction, her daughter is suffering from kidney disease and lives with her mother far from where Dana, or is it Pilar, is staying.
"…a long-time prostitute who is nearing the end of her run…Her career began when she met Nelson…but it turns out he was a pimp/coyote."
Dana has a customer, Julian (Cristian Mercado), who she actually likes apart from their business relationship. He comes to her "rescue" more than a few times, except for a time when she could've really used his help, but that's all I'm going to say about that. Julian is a doctor who has been treating children affected by a recent earthquake in their area. His own daughter was one of them.
On top of all this, there's a side story with an extremely adorable little girl named Lulu (Ariana Freire), who is walking along the beach when we first meet her. She's asked by a pregnant woman if she knows where her mother is. She doesn't. The pregnant woman, who we later find out is named Wendy (Nadine Munoz Cervantes), works for Nelson. She takes Lulu, and another girl to Nelson's compound and the other girl gets taken right away. Lulu gets stowed away in a basement room, trapped without knowing what's happening.
Dana/Pilar's story converges with Lulu's in a devastating way. This film does not offer a neat solution, because the reality depicted rarely has a happy ending. We are left with the slightest, and I mean the slightest glimmer of hope. The most important thing that can be gleaned from La Mala Noche are the facts that are screened at the end of the film.
La Mala Noche (2019) Written and Directed by Gabriela Calvache. Starring Noëlle Schönwald, Cristian Mercado, Jaime Tamariz, Ariana Freire, Nadine Muñoz Cervantes, Critina Marchán, Naomi Ruf Calvache, Joaquin Gonzalez, Juan José Franco, Doménica Elizabeth Gallardo, Diego Mignone, Gonzalo Gonzalo. La Mala Noche screened at the 2019 SXSW Film Festival.
7 out of 10 stars