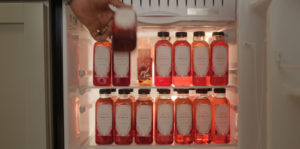 Mixing comedy and horror is no easy feat. Just ask most directors not named Sam Raimi. Writer/director Jake Myers' short film Kombucha!, co-written by Geoff Bakken, mixes office comedy satire with horror, and it does so at a high level. The seven-minute film centers around Luke (Terrence Carey), who daydreams about his true passion for being a musician while being stuck inside an office. His co-workers all swear that their productivity goes up by drinking a red kombucha beverage, so will Luke drink the Kool-Aid, too, so to speak?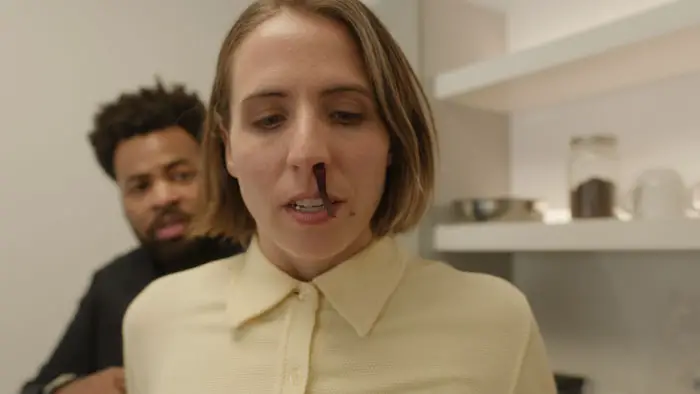 "…daydreams about his true passion…"
Luke's manager, Kelsey (Claire McFadden), tells him she also had other dreams, but dreams won't pay the bills. We then see a giant red, slimy thing hanging from her nose. She blames it on allergies, but we all know that something is amiss. Andy Rowell, a co-worker named Alan and Lili Galluzzo as Busker round out the cast with surreal and silly yet straight-faced takes on their characters (along with McFadden).
Terrence Carey is completely believable and relatable, which is difficult to do within such a short time frame. There is a toilet humor gag to cap things off, and he sells it perfectly. The gore of the movie is great and goes with the whole insane tone of it all.
Kombucha! is a tasty delight of a short film, especially if you're into a lighter version of the Raimi Evil Dead type of horror/comedy.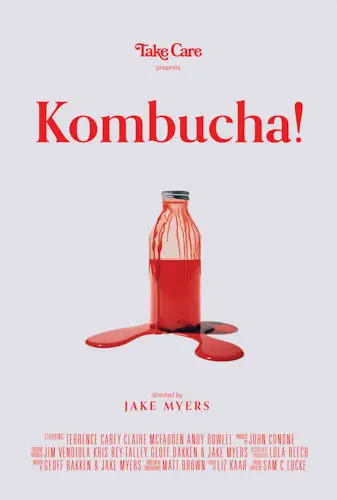 "…a tasty delight of a short film..."