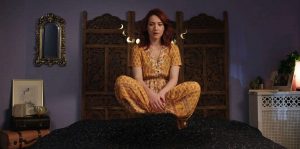 DANCES WITH FILMS 2021 REVIEW! In Klutz, director Michelle Bossy delivers a moving short film about a novelist who can't write, stifled by the intense grief she's feeling from the passing of her beloved sister.
The author, Zowie (Malka Wallick), deals with her sister's, Lida (Mara Kassin), death by imagining conversations with her. She eventually manages to pour her sorrow into a children's book about a superhero whose only power is to fall down. Unfortunately, this is not well received by agents and publishers who are looking for her next novel.
The film conveys a deep sadness, struck through with rich veins of dark humor and irony. Despite the brief runtime, Klutz lands the punches hard, but with grace and ultimately with hope.
Klutz screened at the 2021 Dances With Films.