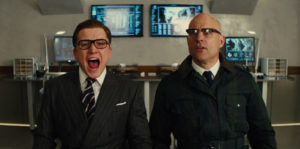 I gave a glowing review to Kingsman: The Secret Service and now look at its follow-up, also from Matthew Vaughn. Can the franchise escape the all-too-common problems of "sequelitis" with Kingsman: The Golden Circle. What about a prequel should that happen?
The original threat was a maniacal monster set to punish humankind for its assault on the environment in his right-cause/wrong-method crusade. Here the monster is Poppy Adams (Julianna Moore), and her issue of choice is the drug war. Poppy and her pharmaceutical corporation have created a monopoly on the illegal drug trade. As a result, she poisoned the world's supply of cocaine, cannabis, ecstasy, etc., and is holding the world hostage. Within days, those infected experience mania, paralysis, and then nasty blood vessel explosions.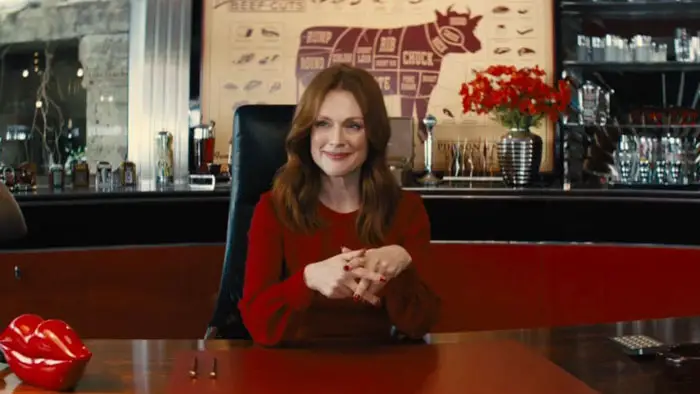 "Within days, those infected experience mania, paralysis, and then nasty blood vessel explosions."
Meanwhile, Poppy has hired a previous Kingsman outcast, Charlie (Edward Holcroft), to attack Eggsy (Taron Egerton) with his robotic arm to ultimately hack the Kingsman servers and locate all their members. With a single push of the button, a missile strike takes out every Kingsman along with its headquarters. The only ones left are Eggsy and Merlin (Mark Strong), who were not home at the time.
Eggsy and Merlin are set to stop Poppy's evil plan but are severely outnumbered. Their only help comes from Kingsman U.S. counterparts — the Statesman. These cowboys are Tequila (Channing Tatum), Whiskey (Pedro Pascal), Ginger (Halle Berry), and their leader, Champ (Jeff Bridges). Lo and behold! We have a movie.
So, let's talk about sequels. In general, for a sequel to work, the second film needs to include everything we loved about the first film while expanding the world. What I (we) loved from the first film was the origin story of Eggsy and his transformation from street punk to proper, well-mannered Kingsman. We're invested in him and hope he reaches a good outcome. The problem is Eggsy's journey can't be told again in the sequel. He's a Kingsman now doing Kingsman things. He's already overcome his most significant obstacle in life, so every challenge he faces throughout Kingsman: The Golden Circle never feels big enough.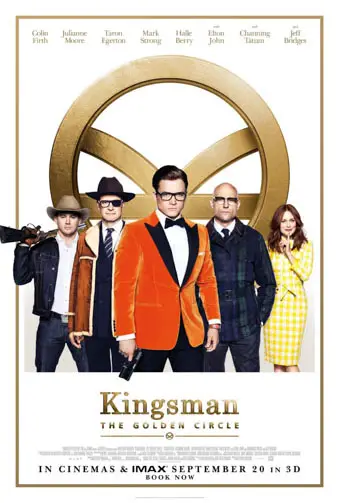 "…it's not like this problem can be fixed because it's engrained in the final script, so we're stuck."