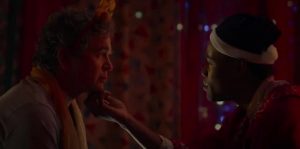 As I watched Jon Delgado's dramedy King of Knives, I felt a growing sense of admiration. In the cutthroat climate of contemporary filmmaking, Delgado, along with star/writer/producer Gene Pope, had the audacity to make a micro-budget dramatic comedy with a cast of unknown actors and nary a plot to summarize. Back when I worked in film distribution, I would have taken one glance at this before cynically stating, "It won't sell." Major props for Delgado and Pope for not giving a sh*t. Sure, King of Knives could have been sharpened a tad, but it remains a vivid example of a filmmaking team going for broke, putting themselves out there, their hearts stitched raw on their sleeves.
Pope's protagonist Frank works at a swanky ad agency. Before he knows it, his idea is stolen, and he loses his account. He also happens to be going through an extended rough patch with his wife, Kathy (Mel Harris). Their daughters – the world-weary, rebellious Kaitlin (Roxi Pope) and her direct opposite, the saint-like Sadie (Emily Bennett) – join the disheartened couple for their 28th wedding anniversary.
Desperate to escape the shackles of his existence, Frank embarks on a journey of sorts. He smokes weed with Kaitlin, ruins a wedding, goes to a party on MDMA, has his fortune read, and (minor spoiler alert) quits his job. In the meantime, a past tragedy surfaces. The catharsis, when it does arrive, feels somewhat abrupt and unearned, making me wish Delgado left that sub-plot out. Less is more, after all. Luckily, the director sticks to his guns and lands the movie's ending, refusing to resort to a happily-ever-after, sappy resolution.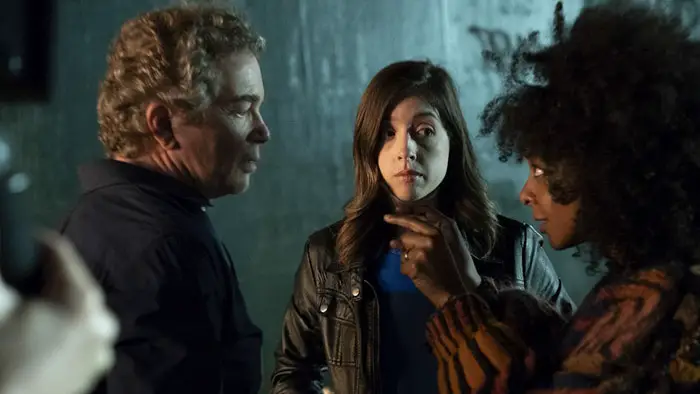 "…Frank…smokes weed with Kaitlin, ruins a wedding, goes to a party on MDMA, has his fortune read…"
King of Knives is about nothing and everything: our relationship with our families and friends, how we deal with our past, and how we let it affect our most cherished relationships. Though on paper it may resemble a plethora of aimless indies about privileged white men undergoing mid-life crises, it marches to the beat of its own drum, refusing (for the most part) to adhere to tropes. Darla (Kara Young), Kailin's friend, even states pointedly, "You know who I don't have sympathy for? Aging, rich, white dudes."
Delgado's touch is surprisingly keen when it comes to handling Frank's relationship with his daughters and his wife. He also proves adept at staging comedic set-pieces and witty one-liners. "You're worse than a Stepford wife," Kaitlin tells her sister. "You want to be one." Darla – who gets most of the best lines – exclaims, "Burbs, man… Ya'll break down for real!" I enjoyed the scene of Frank smoking pot with the exasperated Uncle Jim (Daniel Jenkins), or the tragically funny pre-break-up pity blowj*b sequence (He: "Baby, that was so sexy." She: "I'm breaking up with you.")
"Don't go all Hallmark on me," Kaitlin tells her mom at one point. King of Knives is definitely too real, too direct, too well-written and bleak to be featured on that channel. It feels more like an extended episode of a cable drama, one with great potential. Gentle but incisive, mournful but also hopeful, and at times quite humorous, this dramedy may not leave deep cuts, but its blade shines nevertheless.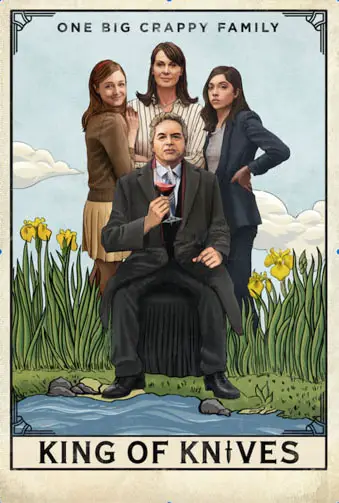 "…like an extended episode of a cable drama, one with great potential."