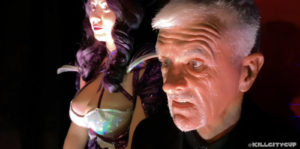 Luke Robert's series, Kill City Cup: America's MOST BADASS Tournament, takes a page from the short-lived show Lucha Underground by bringing the fast-paced world of independent wrestling to a dark, dystopian future. It's 2035, and the evil Kill Corp has emerged triumphant after the Great War. Run by the dastardly Mr. Kill (Brian Kahrs), the company controls all the available energy in the world from its headquarters in Kill City. Tired of all the whining and complaining from the masses, Mr. Kill creates a gladiatorial tournament called the Kill City Cup, where the winner is allowed to ask for one request, a wish, as it were.
At first glance, you'd think this is a meager wrestling program with a ring set up in the middle of a worn-down sound stage arena. But you'd be wrong (not really). The proceedings begin with the Ringmaster (Rye Mulls) introducing the first three competitors: Maxwell Chicago (Henry Alvarez), Hecates Hangman (Jimmy Jacobs), and Neo-Shaman (Matt Sydal). They immediately engage in a triple-threat deathmatch. As the fighters of each bracket win, they move up the ladder, but Mr. Kill has a secret weapon in the indestructible cyborg known as The Machine (Brian Cage).
First, yeah, Kill City Cup: America's MOST BADASS Tournament is a wrestling show. I've been watching WWE since I was a young teen living in Southern California. I had little exposure to the indie wrestling scene, which operates much like indie filmmaking. Right away, the show pales in comparison to the highly produced and very slick WWE products. What creator Luke Robert does is take the low-budget production and give it an end-of-the-world twist to the set design and characters. Along with writers Paul Glantz, Rye Mulls, and Chris Scoville, the action series successfully pays homage to B-movie sci-fi by adding cheesy flavor here and there.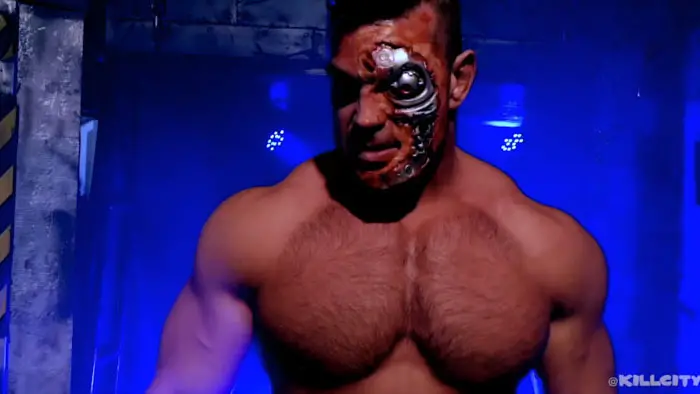 "…Mr. Kill creates a gladiatorial tournament called the Kill City Cup…"
Mr. Kill sits in his private seat, overlooking all the combat with his Nero-like Vince McMahon persona while speaking to the "people" between matches. Also, promos are cut, and side deals are made to pump up the audience before the bout. There is a story here as one of the competitors is gunning straight for Mr. Kill. Since, unlike your typical sci-fi production, we're dealing with wrestlers here, and it is brutal. In the opening bout, Hecates Hangman fights with a spike in hand and opens up one of his competitors. Yeah, that's real blood, and his victim is then strung up like a gutted pig.
The wrestling in Kill City Cup: America's MOST BADASS Tournament is pretty standard indie wrestling. Gone is the polish of WWE, but there is the gritty determination associated with the indies. Matt Sydal and Brian Cage are the wrestlers I'm familiar with. Then there's indie darlings Natalia Markova, Brian Kahrs, Gia Love, and April Hunter.
Let me make one criticism, which would be invaluable for future episodes. Robert should hire a comedy writer. The show is loaded with one-liners said after a devastating move. The problem is these quips are pretty standard and not all that clever. Someone needs to not only punch up the zingers but also write for the commentators during the match. I'm sure all the play-by-play is done in post and, with a little care, can elevate the action on screen.
Kill City Cup: America's MOST BADASS Tournament is ideal for wrestling fans (specifically indie wrestling fans) and those who love cheeseball B-movies. Hell, it's perfect for anyone who doesn't take their cinema too seriously. For Luke Robert, it's a good start with the potential to improve.
For more information, visit the Kill City Cup: America's MOST BADASS Tournament official website.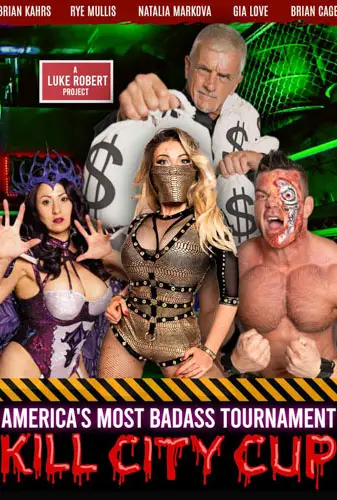 "…ideal for wrestling fans..."