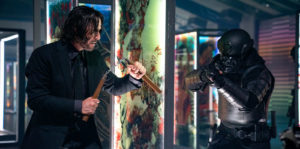 To add even more intrigue to the friendship angle, Donnie Yen plays Caine, a blind killer. Unfortunately, John's friend, Caine, is now on the hook for his death by Marquis. If he wants to live and keep his unknowing daughter safe, Caine must be the one to kill John Wick. Let's make this even more complicated with more compromised characters. There's the assassin known as Tracker (Shamier Anderson) and his vicious attack dog. Tracker ironically has the uncanny ability to locate John Wick at a moment's notice but refuses to kill him until the bounty price is worth his while.
But really, who cares about the story (though it's superior in many ways)? We're watching John Wick: Chapter 4 for the action, and there is a lot of it. A few wrinkles have been added. First, everyone has bulletproof gear in some form or another. The High Table assassin guard is equipped with light armor, and everyone else has suit jackets that I assume are made of Kevlar. Guns are the weapon of choice, but you've got to use them wisely.
"Reeves is John Wick and never misses a beat…"
John Wick: Chapter 4 is essentially one action set piece after the next. As such, the fight choreography and cinematography are top-notch and highly inventive. The car chase sequence is like no other, with the camera transfixed on Reeves performing a series of automobile skid maneuvers. Next, there's a home invasion gunfight that takes place from an overhead aerial angle involving a new weapon making this one-shot sequence a thing of beauty. It's almost like a ballet. Finally, the pièce de résistance is an entire sequence on several flights of stairs. This action is memorable, and repeat viewing is in order to appreciate it all.
Reeves is John Wick and never misses a beat as the killer we root for. He goes through the wringer and then some. The physical toll on his body is excruciating, and you feel his pain and exhaustion all the way to the end. The other stand-out performance is Yen. His blind fighting is never hokey, and it's inventive as hell. Skarsgård as Marquis is what we call in wrestling a "chicken-s**t" heel. Ruthless and sadistic, his ultimate fate plays out perfectly.
John Wick: Chapter 4 is the return to the greatness we associate with the franchise, particularly after the misstep that is Chapter 3. It is easily my favorite movie of 2023 so far and begs for repeat viewings. Even at its almost three-hour runtime, there's a moment in the third act where you wish the fun and blood will never end. Strap in, folks, you're in for a non-stop thrill ride you'll never forget.
John Wick: Chapter 4 premiered at the 2023 SXSW Film Festival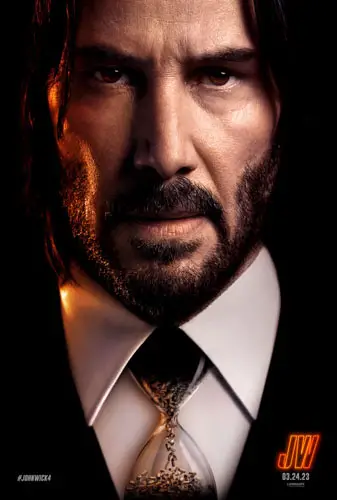 "…the return to the greatness we associate with the franchise..."