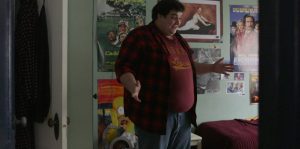 The myth has been busted for quite some time: comedians can act and can do it well. But that only seems to be reserved for comedians at the top of their game. Bad comedians make bad actors, as seen in Marco Jake and Anna Nilles' feature film Itchy Fingers.
The moment the film begins, we are introduced to wannabe stand-up comedian Ernie Burroughs (Zachary Shultz). Ernie should have natural comedy chops considering his father and grandparents are a bunch of clowns, literally. We find Ernie recording his set in his bedroom and then posting it to YouTube. He spends the rest of the day monitoring his views and responding to comments, which are mostly from trolls saying, "You're not funny" or "You're fat." They're right… about the funny part.
His clown-faced father (Jeff Prather) tells Ernie he needs to start taking responsibility for his life. A recent high-school grad, Ernie, wants to be funny, but he doesn't want to look for a "real" job nor put in the work required to be a comedian, like going to clubs and trying his material in front of a live audience; being YouTube famous is good enough.
Later that night, a comment comes in from the director of the avant-garde Four Causes Theater, Ms. Reddy (Elsa Guenther), saying that she thinks Ernie is funny and should join Four Causes. They do not perform scripts of other writers and speak words that are not their truth. Four Causes encourages a collaborative group process in its storytelling. Every cast member creates their characters and speaks their truth.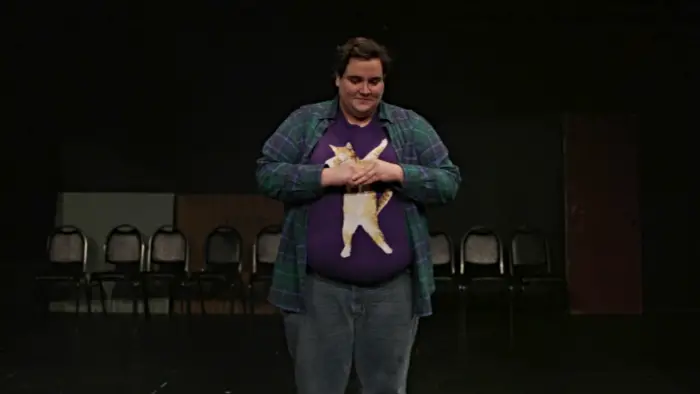 "This season's play is about school gun violence, and Ernie is cast as the school shooter…"
This season's play is about school gun violence, and Ernie is cast as the school shooter—not that he had any say in the matter. He is resistant to the idea because they want him to tap into that part of his psyche that makes him want to kill his classmates, and Reddy also plans to use his real name as the name of the shooter. Whenever he seeks a different role, changes the nature of the character, or brings in his jokey sense of humor, he's chastised to the point of bullying for not taking the play seriously. In fact, Ernie is pushed and bullied to the point that he begins shutting down.
It's hard to nail down precisely what Itchy Fingers is, which is the film's charm. It's more satire than comedy with a dramatic bent. I found it fascinating for many reasons. First, Ernie's characterization is strong, keeping audiences engaged. He is that guy who wants so desperately to be a comedian that he refuses to hear the words of friends and family telling him he's not funny and then ignores their advice.
Ernie then "chases the hug" to Mr. Reddy. Here, the film becomes a satire on the theater culture about method acting and finding one's voice. Ernie is a fish-out-of-water struggling to tap into his real emotions. He uses humor to deflect, and it pisses off the rest of the troupe. Writers/directors Jake and Nilles take no prisoners lampooning the pretentious nature of theater. It's both funny and sad.
The cast is quite good. While it's easy to believe Ernie is not funny, Shultz does pull him out of pathetic to sympathetic, especially when the story goes full crazy at the end. Guenther, as Ms. Reddy, kept me guessing about her true motivations. Another outstanding performance comes from Joyce Porter as Ernie's grandmother, Mime.
Itchy Fingers is a low-budget indie film, and there's a clear love for filmmaking shown throughout from a cast and crew honing their craft. In the end, it's a film unlike any other you've ever seen and truly defies whatever genre we think it might be—comedy, drama, thriller. I don't know, but give it a chance.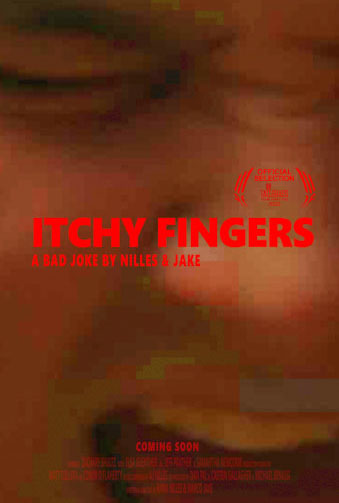 "…it's more satire than comedy with a dramatic bent."