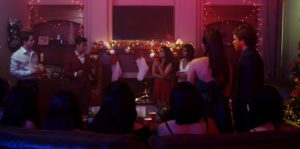 It Came Upon A Midnight Clear is Stephen Allen Gutierrez's sophomore feature-length effort. For the comedic slasher, the filmmaker landed horror icon Michael Berryman in a supporting role. In addition, the writer-director brought on crew members from other projects of his, such as Teenage Vampire, for this title, which wears its influences on its sleeve. But did he bite off more than he could chew?
High schooler Jeremy (Drew Pipkin) is beaming over his impending date with his dream girl, Amanda (Katerina Sifuentes). But, when he is stood up, Jeremy's best friend Minka (Jaeden Riley Juarez) takes him out for a great friend date. Unfortunately, the reason Amanda never showed up isn't that she blew him off. No, Amanda was kidnapped by the dreaded Santa Slayer, who was thought dead for nearly two decades.
The Santa Slayer's return causes chaos in the town and the school as bodies keep piling up. Unfortunately for Jeremy, Minka becomes a prime suspect, although patient teacher Mr. Campbell (P.G. Marlar) doesn't believe that for a moment. Meanwhile, Principal Lucas (Michael Berryman) is figuring out the best way to keep all the students safe. Is that even possible? Why has the Santa Slayer resurfaced after all this time? Is a jealous Minka behind the killings?
The most obvious influence on It Came Upon A Midnight Clear is Scream. In one genuinely intense moment, a student named Elise is forced to "play a game" to save Amanda. Of course, said game involves correctly answering horror trivia. It is a well-shot, eerie sequence that considerably ups the story's stakes. Frustratingly, this is the only scene where the killer does anything like this. While it works on several levels, it is also distracting because the Santa Slayer's methods seem inconsistent from one killing to the next.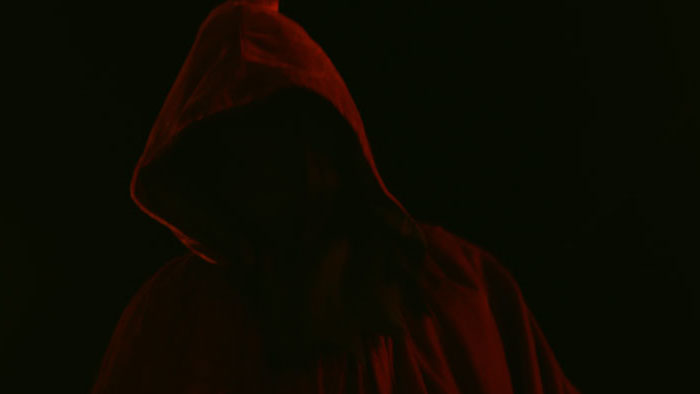 "…the Santa Slayer resurfaced…"
Also, on the more negative side of things is the ultimate reveal of the slasher and his/her/their/its motivation. This does not work and feels like Gutierrez misunderstood why audiences grew tired of the Scream sequels (to specify more would spoil the movie). There's such an intriguing setup, a few fun red herrings for misdirection, and Jeremy's possible personal connection to the killer is fascinating. That's why the "why" of the murders is such a letdown, as many of those elements are not paid off satisfactorily.
But, It Came Upon A Midnight Clear still works more often than not. The biggest reason the film is still a recommendation is its kills. The Santa Slayer racks up quite the body count, and each death is different and startling. The number of minor and not-so-minor characters killed off is large for a low-budget picture.
The next thing that makes the film worthwhile is the cast. Yes, some of the extras who are only in one scene are not the best. But the core cast and the major supporting players are very excellent. Pipkin possesses a certain charisma that makes him easy to root for. Juarez is so sweet and sincere that she elevates every line she has. Berryman gets a very serious-minded role and plays it with his usual gravitas. Marlar is tons of fun as the well-meaning teacher, while Sifuentes has the bitchy senior queen bee thing down to a t.
The lighting throughout It Came Upon A Midnight Clear is also excellent. Gutierrez and DP Aaron Lee Lopez use strong, Giallo-like lighting setups to create atmosphere and set a consistent mood. It's very engaging and ambitious for such a low-budget affair.
It Came Upon A Midnight Clear holds precious few surprises for anyone who has seen a lot of slashers. Plus, the way the killer goes about causing death and destruction seems arbitrary from scene to scene. That, unfortunately, includes their motivation. Still, the cast is strong, there is a high body count, and the lighting is incredible.
To learn more, visit the It Came Upon A Midnight Clear Facebook page.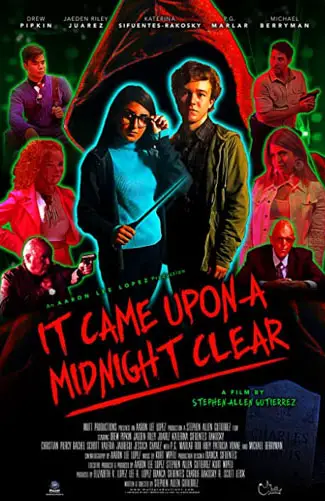 "…the cast is strong, there is a high body count, and the lighting is incredible."