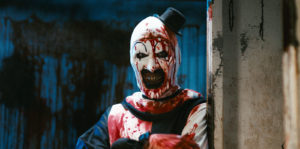 NOW IN THEATERS! The luxury loungers of your local theater are sticky with blood after repeat showings of writer/director Damien Leone's incredible screen breaker Terrifier 2. Continuing exactly where the 2016 original left off, the movie follows the return of the Miles County killer, Art the Clown (David Howard Thornton). While washing all the blood off his trademark black and white outfit, Art meets his new best friend, the fiendish-looking Pale Little Girl (Amelie McLain).
Meanwhile, teenage Sienna (Lauren LaVera) has been working for weeks on her homemade valkyrie costume, based on a comic book character her deceased dad drew. Her creepy little brother Jonathan (Elliot Fullam) wants to dress up like Art the Clown. Their mother, Barbara (Sarah Voight), is not cool with that at all, as she is fed up with all the trouble Jonathan has been getting into. Jonathan is mesmerized by his dad's old sketchbook, as there are drawings of Art the Clown as well as clippings of the previous Halloween massacre. Sienna starts having visions of the clown and evil food trucks. All the while, Art the Clown and the Pale Little Girl go on a merry series of misadventures where people are horribly mutilated and murdered. Death is coming to Miles County again this Halloween, with the streets paved with blood and the lawns turned to graveyards.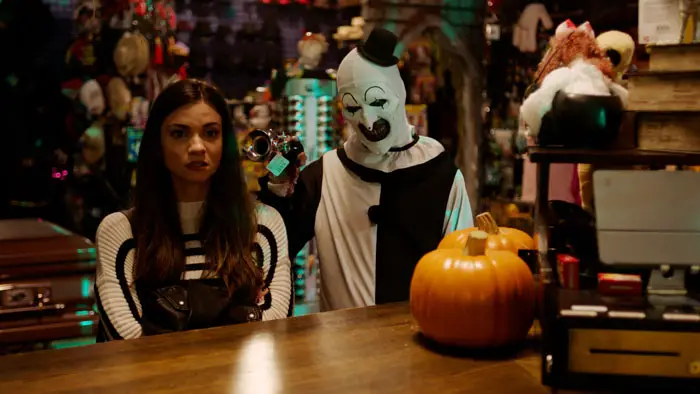 "…Art the Clown and the Pale Little Girl go on a merry series of misadventures where people are horribly mutilated…"
The first Terrifier was pretty much wall-to-wall clown murders with an unusual wrap-around story involving the final girl. It had a minimalist storyline with no explanation of the carnage other than the clown is evil. It worked due to Thornton's inspired silent performance as Art and the level of brutality of the kill scenes, especially the woman sawed in half. It was exactly the kind of movie you would expect gore effects artists to make, which is the case for Leone and producer Phil Falcone.
All Terrifier 2 had to do was take another ride around on the same slaughter train, just have the clown kill people and little else. Instead, Leone and the company have constructed something much more complex and ambitious, even though they didn't have to. The movie will suddenly go on these surreal tangents leading to some outlandish, gruesome set pieces, almost Busby Berkley splatter.
"…in that rare class of sequels where the second installment improves on the original..."