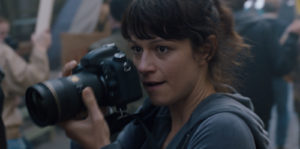 Awestruck just isn't a big enough word to describe my reaction to director Tamara Denic's world-shaking short, Istina (Truth), written by David M. Lorenz. Jelena (Nika Rozman) is a photojournalist for an independent newspaper in Belgrade. She is raising a little girl, Lara (Milica Vuksanovic), with the help of her mother, Branka (Elizabeta Djorevska). She also has a little thing going with coffee shop owner Nikola (Zeljko Marovic). She shoots pictures at night of violent demonstrations and political riots. Some demonstrators hate the press and target Jelena for her work. When things get out of control, she flees Serbia with Lara to Hamburg, Germany. She takes up her photojournalism there but soon runs into even more violence from the German night riots. The crowds she takes pictures of have been told by their leaders that the press lies to them and must be eradicated.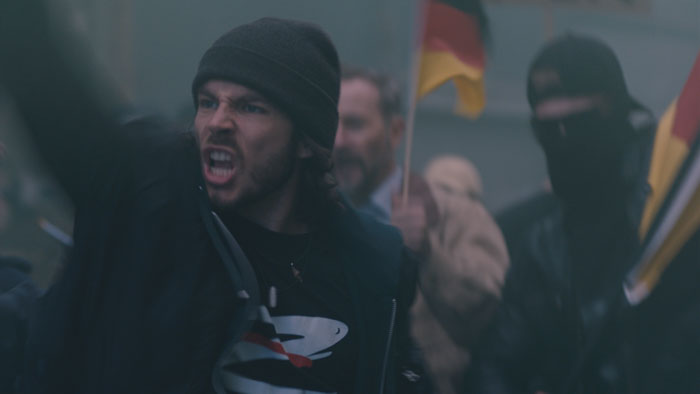 "She shoots pictures at night of violent demonstrations…Some demonstrators hate the press and target Jelena…"
One of the most delicious parts of movie watching is being completely swept away by a film whose premise held no interest at all. Istina (Truth) isn't about the things that usually draw me as a critic. It has no mutant rats or spunky cowgirls. It is about conflicts I have no background on nor any insight into. I was not drawn to this work at all. I came away from it knowing I had seen some of the best filmmaking I have seen all year. You need no background because Denic makes you live inside Belgrade's brutalist white crumbling towers. You can almost smell the Hamburg fish market. Rarely have I been so emotionally transported into the nerve center of the lives in a movie. In less than a half hour, you are flooded with sensory wonder. Istina (Truth) has an important message that is driven home by Denic, emotionally captivating the viewer. Prepare to be moved farther than you thought you could go.