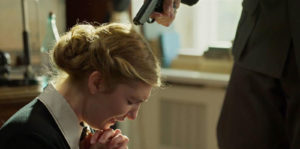 TORONTO INTERNATIONAL FILM FESTIVAL 2023 REVIEW! Director Louise Archambault's Irena's Vow is based on the true story of Irena Gut (aka Irene Gut Opdyke), a Polish woman conscripted to serve a Nazi officer during World War II who saved 12 Jews by hiding them in the Nazi officer's house. If this were written as a Hollywood script, you'd never believe it, but sometimes human daring, courage, and the will to survive can exceed our imaginations.
After the Nazis invaded Poland, nurse Irena (Sophie Nélisse) is conscripted to work in a munitions factory. After fainting in the presence of a German officer, she was eventually ordered to work in the home of Herr Schulz (Andrzej Seweryn). Specifically, Schulz has her supervise a handful of Jewish tailors. One day, she overhears that all Jews in the region are set to be exterminated or removed by a certain date. Left with no good options, Irena hides her Jewish friends in the basement of the house Herr Schulz has commandeered. As well-intentioned as she is, her plan does not come off without complications. Several people eventually discover the secret, leaving Irena and the group to make difficult choices.
Gut didn't tell her story for many decades until she was outraged by a Holocaust denier decades later. I'm grateful she wrote her memoir, In My Hands: Memories of a Holocaust Rescuer. It was later adapted into a play, Irena's Vow, by Dan Gordon, who also wrote the screenplay. The movie simplifies and streamlines the real account a bit, but the essential details are there.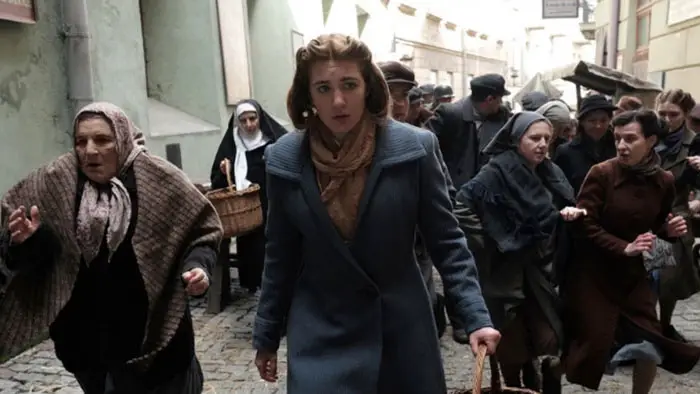 "…Irena hides her Jewish friends in the basement of the house…"
This is an extraordinary story, from the sheer act of bravery involved. But it took much more than that — charm, guile, planning, strategy, and an incredible command of logistics. Just imagine what it would take to feed a dozen people in total secrecy for even a few days, much less for more than a year. But those people also need so much more — lights, entertainment, exercise, and something that passes for a life. Irena's Vow is absolutely fascinating just from the perspective of discovering this astounding true event. 
But in addition to the incredible source material, Irena's Vow delivers as a movie. Nélisse is a revelation. She's beautiful, charismatic, and completely convincing. She has to show courage, conviction, empathy, determination, and a heartbreaking range of other emotions, which she does with wild success. On the flip side, Dougray Scott makes a convincing and suitably complex Nazi. His character, Major Rugemer, who's the Nazi that reassigns Irena, does terrible things, of course. However, he's not necessarily a true believer in the cause. There is an element of humanity, even though we can barely see it from all the overlying layers of repulsiveness.
Besides the acting, the production design, costumes, and direction all make Irena's Vow convincing as a period piece. The only thing that subtracts a bit from the verisimilitude is that all the actors speak English. While I'd have preferred subtitles for the sake of realism, I understand the desire to bring this to the widest audience possible. The narrative's importance may demand it.
Irena's Vow is a compelling, suspenseful feature involving pure good and evil — which is precisely why motion pictures exist. But long after the last image has flickered into your eye, you'll be left with a deeper, overarching appreciation of what humans are capable of at their best. You can't put a price on that. Gordon and Archambault deserve a lot of credit for adapting her life in an exciting and heartfelt way.
Irena's Vow screened at the 2023 Toronto International Film Festival.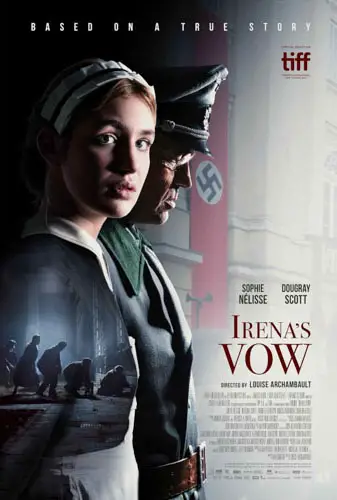 "…a compelling, suspenseful feature..."