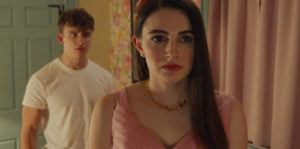 Director Erik Bloomquist and writer Taylor Turner expand their 20-minute short Intermedium into a feature-length film. Bloomquist even imports the same stars, with Emily Keefe and Beau Minniear reprising their starring roles. Was there a reason to create a 106-minute version of the initial film, or would the filmmakers have been wise to leave well enough alone?
Bridget (Keefe) is moving in with her dad, Greg (Sean Allan Krill), and his fiance, Diane (Amy Hargreaves), after a school mishap in Chicago. After settling into her room, the OCD-stricken singer/actress has a rude awakening when she meets Kyle (Minniear), a ghost whose house she now resides in. The two are about the same age, and his love of music creates a connection, though Kyle doesn't know why only Bridget can see him.
Bridget's first day at school starts poorly, as words of her possible misdeeds have spread. Things get even worse when she makes an enemy out of drama star Nina (Haskiri Velaquez), who happens to be Kyle's ex. Her troubles further mount when Greg's cancer returns. How can Bridget cope with her personal issues and get rid of this ghost? For that matter, as she and Kyle get to know each other better, does she actually want him to move on?
Intermedium is a comedic musical fantasy romance that feels like a departure from the other titles Bloomquist has had a hand in. This story takes the most command of tone the indie stalwart has yet faced. It's quite the feat to go from jokes about Kyle's perpetual shirtlessness being a distraction to Greg's illness. But as per usual, audiences should have no fear watching a Bloomquist feature. The director makes it look effortless, as viewers will laugh one moment, then be near tears or on the edge of their seats as things get more involving.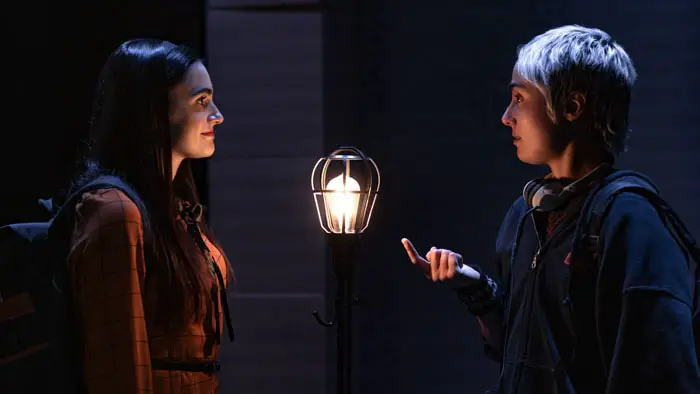 "…has a rude awakening when she meets Kyle, a ghost whose house she now resides in."
Keefe is perfect as the overbearing but well-meaning student. The actor's singing voice is incredible, and she honestly carries every emotional beat. Keefe and Minniear's chemistry crackles from their first scene together. When Bridget and Kyle discuss Frank Sinatra, a singer she considers overrated, their back-and-forth is funny and helps build their relationship. Minniear is charming and flirty. "So you think I'm a distraction?" is delivered with a knowingly wry smirk. A speech he gives at the end is so emotional it will break hearts.
The supporting cast also proves themselves throughout Intermedium. That Bloomquist scored the incomparable Hargreaves in a decent-sized role is jaw-dropping. To no one's surprise, she is a delight and projects a tenderness toward Bridget that is most believable. Velaquez is fantastic as the mean girl, while Jesse Posey is adorable and concerned. However, the best secondary character performance comes from Krill. As Bridget's father, the actor goes all in. He clearly loves his on-screen daughter, which is highlighted in a brilliant song and dance routine as she grows up. The man portrays his illness with true gravitas, immediately garnering audience sympathy.
Turner's screenplay perfectly blends romance, drama, comedy, and supernatural. The humor makes the drama go down easier, while the romance adds more weight to the ghostly happenings. The twists and turns of the narrative make sense and don't break the established rules. The scattered flashbacks expertly lay out the truth without making the plot feel disjointed or needlessly convoluted. The film ends on the only note it could, and it is entirely worth the journey.
Intermedium is another home run for Bloomquist. The director shows a command of genre and tone that proves just how much he's grown as a filmmaker. The cast all fit their roles like a glove, with Keefe and Minniear perfectly matched as the central duo. The plot is intriguing and dramatic in equal measure. Bloomquist is prime to become the next A-list director, and this genre mashup highlights why he deserves to be.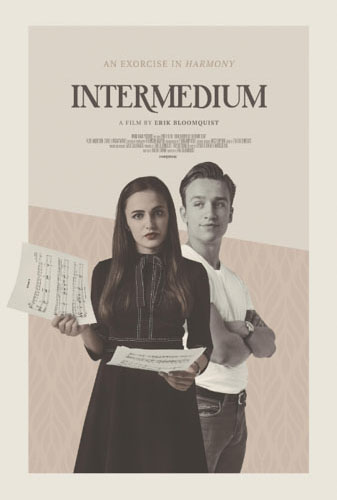 "…Bloomquist is prime to become the next A-list director, and this genre mashup highlights why he deserves to be."