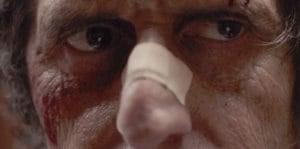 I didn't know what to expect going into Rania Attieh and Daniel Garcia's Initials S.G. Honestly, I think I was better for it because I was almost instantly surprised by how great it is. The Argentinian film centers around Sergio Garces (Diego Peretti), a former adult film star who's now trying to make it in the straight film world. The farthest he's gotten so far in this attempt is being an extra in quite a few films. Sergio is older, probably in his fifties but it's never really mentioned. He has a penchant for sitting around in his underwear smoking bongs and drinking a lot. He also has a pretty serious anger management problem.  
After getting doored while riding his bike and smashing up his face, particularly his nose, he and his lawyer have to attend a meeting with a judge for a prior incident in which he beat a man up. He is court ordered to see a therapist for his anger problem. Around the same time, he meets an American film executive, Jane (Julianne Nicholson). She's the special kind of woman who swoons after impossible men like this and, naturally, Sergio could care less. It's also worth mentioning that Sergio models his whole look and demeanor after famous European scoundrel lothario Serge Gainsbourg; even going so far as to record an album of Gainsbourg covers back in the day when he was more famous, entitled….Initials S.G.
"He has a penchant for sitting around in his underwear smoking bongs and drinking a lot."
Initials S.G. has more than enough hijinks. Sergio can't really seem to keep himself out of trouble, even though all he seems to want to do is smoke weed, drink, and romance women who are way out of his league. Which sounds similar to another stoner anti-hero right? Maybe one Jeffrey Lebowski? However, Sergio is not as good-natured as "The Dude." Sergio's "The Dude" as played by Walter or one of the nihilists. The tone for Initials S.G. does remind me a lot of The Big Lebowski. There's an omniscient narrator, a lot of crazy things happen to someone who can't handle them, and it's HILARIOUS. It's also worth mentioning that the film takes place during the World Cup when Argentina played Germany because Sergio and all of Argentina is hyped up for Argentina to win. Sergio especially feels personally connected to the victory, as he believes that when the team does well, so does he and vice versa.
Initials S.G. is one of my favorites and I was surprised by how fresh and original it was (despite its similarities to Lebowski). I loved the two hapless characters at the forefront, Sergio and Jane, whose name is also not a coincidence (if you remember that Serge's wife and Charlotte's mother is Jane Birkin). Neither of them knows what they want, really, and because of that, life throws them some very interesting curve balls. So much happens in this film and it's all connected. You can't look away for a second, and that's good because you don't want to!
"The way that these two were able to pack so much action, drama, and hilarity into one 90 minute movie are truly masterful."
Rania Attieh and Daniel Garcia have said that their films are heavily dependent on location. I believe it. Buenos Aires is its own character in the film. I've always wanted to go there, but after watching this, I want to go even more. The script for this film is incredible. I'm seriously jealous that I wasn't the person who wrote it, it's just genius. The way that these two were able to pack so much action, drama, and hilarity into one 90-minute movie is truly masterful. They make you sympathize with someone who, in real life, could easily be reduced to being an irredeemable prick. Those are always the best films in my opinion. Sergio makes a great anti-hero, and Jane is very relatable as his trusty sidekick anti-heroine who's absolutely going through a midlife crisis.
I honestly don't want to say too much more because this film is definitely best approached as a surprise. In the end, you will be amazed by what you just saw. There are a lot of hoops Sergio and Jane have to go through, and the ending is one of the best and most fitting I've ever seen. If you love madcap comedies and loser protagonists, Initials S.G.  will absolutely be your jam, so try to find it when it's released to the general public.
Initials S.G. (2019) Written and Directed by Rania Attieh and Daniel Garcia. Starring Diego Peretti, Julianne Nicholson, Daniel Fanego, Malena Sanchez, Francisco Lumerman.
10 out of 10 stars