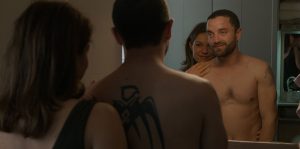 Belgian cineaste Lucas Belvaux, author of Rapt and Trilogy: One, Two, Three, returns with This Is Our Land, a piercing political drama set in a small Northern French town.
Emilie Dequenne is Pauline Duhez, a dedicated, unselfish nurse and single mother of two, whose tranquility is shattered after an invitation from her family doctor and personal friend, Phillipe Berthiez (Andre Dussollier), to join his populist party and run for local mayor. The party dangerously believes in a France exclusively for the French, but Pauline, seduced by the idea of a radical change for the better, seems too flattered to really pay attention to the possible consequences. Her initial reluctance in accepting the invitation was immediately overcome after going to an election rally of the party where the persuasive, self-confident leader, Agnes Dorgelle (Catherine Jacob), the daughter of a neo-nazi, convincingly exposed her political intentions. This faction is enthusiastically supported by a discontented local minority, which includes Pauline's best friend, the fanatical Nathalie (Anne Marivin), but is also fiercely contested by many who demonstrate on the streets, opposing to their obnoxious principles.
"…she ends up choosing love in detriment of politics…"
After her media baptism, Pauline starts losing patients and is frequently insulted on the streets.  She is seen as the quiet puppet of Agnes and Phillipe, who didn't even discuss the party's program with her. The situation gets even more delicate when Pauline, who had divorced from her husband five years before, starts dating with an ex-high school boyfriend, Stephane Stankowiak (Guillaume Gouix), without knowing his violent political past as a radical nationalist militant. Moreover, she is devastated when her communist father, Jacques (Patrick Descamps), cuts ties with her due to the impossibility to cope with the idea that his daughter is
a fascist.
Webs of lies encircle this misguided woman as she gradually discovers the real intentions of those who surround her, including her beloved Stephane. Despite the contradictory feelings, she ends up choosing love in detriment of politics, living the illusion that he is a changed man.
"…managed to slightly disturb through a few sharp observations."
Even with the violent scenes in need of a more convincing impact, the film, co-written by Belvaux and debutant Jerome Leroy, was mounted with a consistent narrative flow while its emotional grip is maintained until the last minute. The writers were inspired by the shocking political ascension of Marine Le Pen during the French presidential elections in 2017 and managed to slightly disturb through a few sharp observations.
The sad transformation of Pauline develops plausibly with the character constantly oscillating before a proud vanity for being chosen and a blind discomfort for the reactions around her decision. Filthy political strategies, inflamed slogans, speculation, and forceful poses, all of them contribute to the social decay of a naive nurse.
This Is Our Land (2018) Directed by Lucas Belvaux. Written by Lucas Belvaux and Jerome Leroy. Starring Emilie Dequenne, Andre Dussollier, Catherine Jacob, Guillaume Gouix, Patrick Descamps, Anne Marivin.
7 out of 10