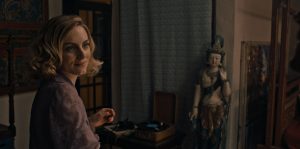 Incognito is a calling-card short film if I've ever seen one. Just to be clear, that's a compliment. Nearly everything writer/director Jacky Song and co-writers Jordan Dotson and Zachary Zhang do here exudes polish, professionalism, and talent; show it to any producer worth their salt, and the reaction is likely to be, "Get those people on the phone – NOW!"
Song (also credited as a co-producer) stages scenes with a clean, almost lyrical sense of visual storytelling. Every shot is polished to a handsome, glossy sheen by cinematographer Logan Fulton. And that big-studio feature/prestige TV patina extends to lots of other behind-the-scenes work, as well, from the blockbuster feel of Kevin Tan's orchestral score to the keen production design that even includes some surprisingly extensive period recreations (where did they get that vintage 1950s bus?).
Of course, none of this professional competence would be worth much without a compelling story to hang it all on, but even the narrative influences of Incognito are top-shelf – a pinch of Hitchcock, a splash of Rod Serling, and a soupçon of Spielberg.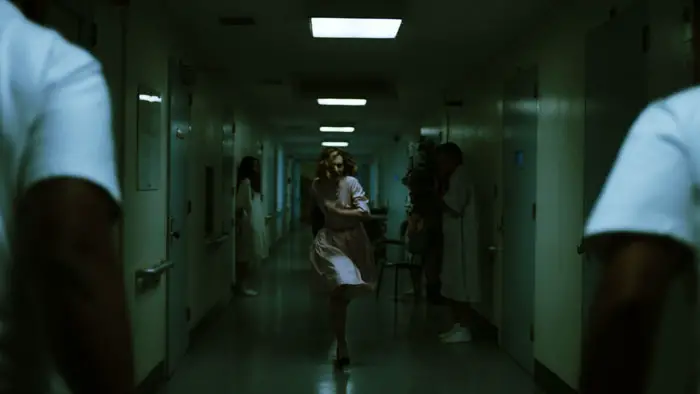 "Isabel claims to have inexplicably woken up in the future…"
The plot (ostensibly based on true events) is a mystery/sci-fi/romance concoction about a young woman named Isabel (Autumn Harrison) who's found wandering the streets of Los Angeles in 1995. She's picked up by the police and placed in the custody of psychologist Dr. Vogel (Tom Wade). In their preliminary interview, Isabel claims to have inexplicably woken up in the future after she and her fiancée (Greg Kriek) suffered a car accident four decades earlier. The good doctor is, understandably, rather dubious. In fact, he's actually a little bit surly about the whole thing, especially considering that he might be dealing with someone suffering from acute mental illness.
But then, Isabel disappears from the mental hospital where she's being held, and some unusual discoveries among her personal effects compel Vogel to investigate his mysterious patient's tale further. Before long, what seemed impossible to believe becomes harder and harder to write off as simply a delusion, and he finds himself discovering some unexpected truths about who Isabel really is or was.
The premise of Incognito is intriguing right from its eerie opening shot. The movie is handled with such a sure hand that its hooks stay buried deeply all the way through to the conclusion. Unfortunately, those last few minutes risk depleting some of the goodwill Song and company have built up to that point. The good news is, there's a twist and an emotional payoff that are both unusual and sympathetic. On the other hand, viewers might ultimately find the slew of unanswered questions left in their wake more frustrating than satisfying.
Aside from what some might construe as a bit of a shaky landing, this proves to be a compelling and often breathtakingly confident short. It doesn't do anything particularly groundbreaking, but there's something to be said for traditionalism executed with attention to detail and a strong sense of story and character. Chances are that, once Incognito gets seen, this bunch of gifted filmmakers won't be able to stay that way for long.