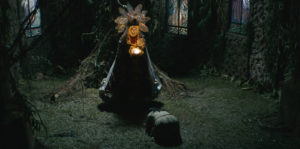 SUNDANCE FILM FESTIVAL 2023 REVIEW! There are many versions of the vampire in world folklore. When I started reviewing books for The Monstrous Librarian, I came across the Filipino Aswang. The Aswang is an especially feral and unnerving version of the vampire. In some traditions across the island nation, the creature can detach its upper body and abdomen from its pelvis down. It floats in this disembodied fashion, stalking prey. In other traditions, most notably explored by the NBC series Grimm, it hunts bodily fluids, such as placental liquid.
The Aswang is endowed with a supernaturally long and slender tongue in all variations. It's akin to a mosquito's proboscis. This tongue is the main tool for extracting blood and other fluids from its prey. It's deeply creepy and unsettling visual, watching that superbly long tongue flex and stretch to attack. Writer-director Kenneth Dagatan's dark and grim fairy tale, In My Mother's Skin, features the Aswang.
Japanese soldiers fighting in World War II brutalized the Philippines, even when the war was winding down. The children on the island even share urban legends about how horrible the soldiers are, including that the Japanese Storm Troopers entertain themselves using a baby's carcass. In a remote village, Aldo (Arnold Reyes) and Ligaya (Beauty Gonzalez) live with their two children Tala (Felicity Kyle Napuli) and Bayani (James Mavie Estrella). They, along with their maid Amor (Angeli Bayani), are at the tender mercies of the village's big man Antonio (Ronnie Lazaro in a particularly fiendish turn). For a few reasons, Antonio begins to suspect Aldo is hiding Japanese gold, and he wants it. In a bid to save his family, Aldo goes to find the Americans.
The once-prosperous family's village has been decimated, so they find themselves without food. To make matters worse, Ligaya is suffering from a sudden onset disease that looks sure to claim her life. Tala and Bayani venture into the forbidden forest to forage, determined to save their family. What they find, though, is a fairy (Jasmine Curtis-Smith), who at first seems fair and very favorable to Tala. Providing her with food and an apparent cure for her mother, the Fairy empowers Tala to behave like a grown woman.
"The cure backfires, and Tala's beautiful mother becomes a bestial Aswang."
But it isn't long before In My Mother's Skin reveals that things are bleaker than expected. The cure backfires, and Tala's beautiful mother becomes a bestial Aswang. At first, she satisfies her blood lust with pets. Then she desires human flesh. To prevent this, Tala makes a very responsible decision and locks her mother in the master bedroom of their crumbling mansion.
This throwback to the cautionary fairy tales of old, wherein a happy ending is not guaranteed, is Dagatan's second feature film. It is remarkable work for someone early in their filmmaking career. This is a dark, bleak story, told with a wonderful sense of confidence by Dagatan. But it is not for everyone. Once the Aswang attacks begin, I'm pleased to say there is much blood splatter. The set design is generally superb, and everything feels lived in, if not ready to crumble.
The acting is good across the board. The desperation and privation of these characters are captured most effectively. I especially enjoyed the sociopathic charm Curtis-Smith imbues into the Fairy. Napuli's performance is laudable for a 12-year-old. I can only hope she continues both acting and training to be better. This was a good start, though there's room for improvement. Wines become better with age, and sometimes, so do actors.
Seek out In My Mother's Skin if you wish to experience a grim, old-timey fairy tale. Dagatan's eerie direction will send chills down your spine. The acting is quite good from the entire cast. The film is guaranteed to give you nightmares.
In My Mother's Skin screened at the 2023 Sundance Film Festival.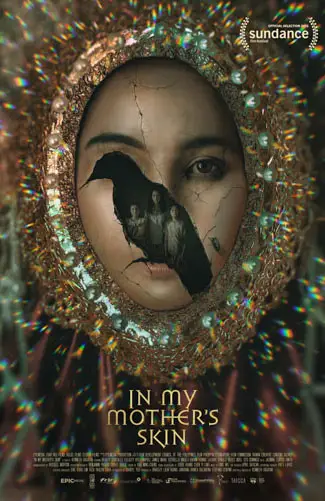 "… guaranteed to give you nightmares."