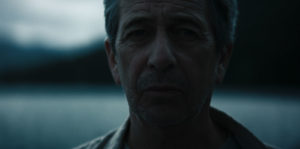 The tension in Chilean co-writer/director Nic Postiglione's thriller Immersion (Inmersión) is generated by constant friction whipped up by its characters. Ricardo (Alfredo Castro) skippers a small boat with his two daughters, Teresita (Consuelo Carreño) and Claudia (Mariela Mignot), to a remote Chilean locale. The tension between Ricardo and Teresita bursts through when she decides to catch some topless rays. A generational rift is revealed when the father demands propriety from his daughter. For Ricardo, this part of Chile is not the type of place one goes topless. His negative comments about the indigenous Mapuche inhabiting the area further irritate Teresita. Caught in the middle between these two strong personalities is Claudia, who is relegated to the role of family diplomat.
For Ricardo, the whole point of the journey there is financial. He wants to assess the state of his brother's house, which is for sale, and Ricardo hopes to get a cut from the purchase. On the way to the property, he spots what appear to be three indigenous fishermen whose small boat seems to be sinking. Ricardo takes one look at Teresita and Claudia and takes another look through prejudice-tinted glasses at the fishermen. He is unwilling to risk his daughters' safety to rescue and bring onboard these men he suspects could be savage predators. Ricardo guns the motor, leaving the three fishermen to fend for themselves. Teresita rages over her father's callousness, appropriately calling him a coward.
When Ricardo and his daughters arrive at the house, they find the place in a state of squalor. As expected, father and daughters run into two out of the three fishermen Ricardo abandoned to their fates. The fishermen, Walter (Michael Silva) and Conrrado (Alex Quevedo), play on the consciences of Ricardo, Teresita, and Claudia. Walter and Conrrado convince them to search the area for the missing fisherman. The possibility exists that he may have drowned due to Ricardo's earlier flight.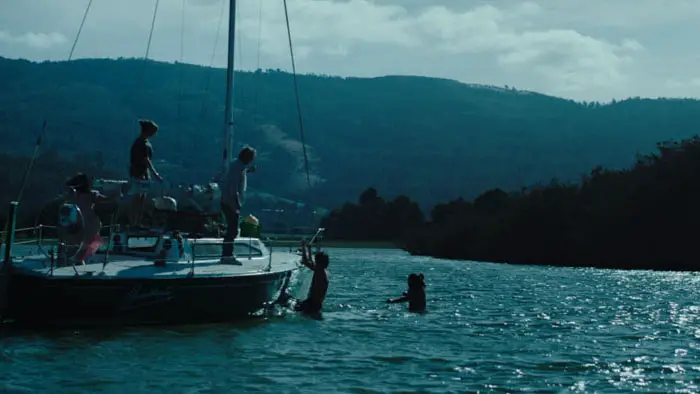 "…Ricardo guns the motor, leaving the three fishermen to fend for themselves."
Postiglione does a fine job of sustaining a tense mood throughout Immersion. The film gives viewers a quick tutorial on South American history, class conflict, and colonialism. In that sense, it works. The setting and screenwriters Postiglione, Moisés Sepúlveda, and Agustín Toscano's exploration of South America's legacy of colonialism through the vehicle of a thriller deserve praise. Ricardo is a quintessential kind of character — an older male of European extract filled with class interests and paranoia toward the indigenous other. Teresita is another type of quintessential archetype — a younger generation fed up with the previous generation's prejudices, looking to engage with the indigenous population.
The thriller, however, does have profound flaws. Chief among them is how the indigenous Walter and Conrrado are written. They are intentionally made to appear creepy and cryptic in their responses to Ricardo's questions. In order to highlight Ricardo's paranoia, these two need to be written in such a way that they have an edge. But, if the film's goal is to highlight the stigmatization of indigenous peoples, it seems self-defeating to portray them in such a chilling manner, even if it is through Ricardo's POV.
In short, if you are in the mood for an entertaining Chilean version of Polanski's Knife in the Water, Immersion is for you. However, if you want a deeper understanding of South American history without making the indigenous characters yet again into exotic others, even while highlighting their plight and exploitation, you would be better served looking elsewhere.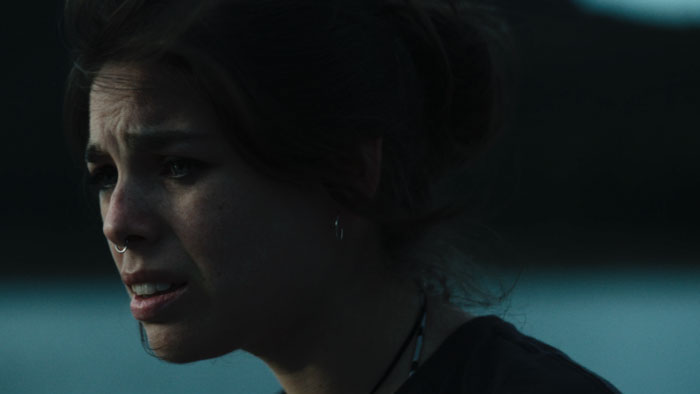 "…Postiglione does a fine job of sustaining a tense mood..."