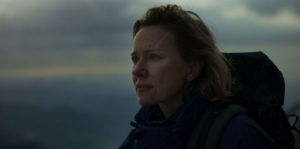 In her last film, The Desperate Hour (reviewed under its original title of Lakewood), Naomi Watts showcased a physically demanding performance as a mother whose child is in class during a school shooting. After being lauded by critics for the sheer physicality of the role, Watts is back with Infinite Storm, in which she appears to claim: "You think that was tough? Hold my hiking pole!" The actor plays real-life rescue patrol volunteer Pam Bales, whose harrowing hike was documented in an article titled "Emotional Rescue: A Hiker Becomes a Benefactor as She Follows a Set of Sneaker Prints" by Ty Gagne.
Bales set out for a therapeutic jaunt to the top of Mount Washington in New Hampshire in 2010. Before her trek, she makes small talk with local store owner Dave (Denis O'Hare). This conversation, with brief flashbacks to Bales' past, provides us only with a cursory knowledge of her motivation to endure such an exhausting endeavor despite whispers of an impending snowstorm. Despite the weather being against her, we don't fear too much for Bales, as she appears to be a woman who is prepared for the perils, as we witness her dutifully suiting up for all possible conditions. Arriving at the mountain base, she notices a solitary car in its lot and asks a pair of departing hikers if they encountered anyone on their morning walk. They reply no.
After soaking in the majesty of the panoramic views, Bales witnesses an ominous patch of clouds moving in quickly. Without much time to adequately prepare, she is overwhelmed by the windy, snowy conditions near the peak. In her rush, though, Bales sees sneaker tracks imprinted in the snow, and her search-and-rescue instincts kick in. She stumbles upon a young man (Billy Howle), unconscious and unresponsive. As the conditions have rendered him unable to speak or think clearly, the young man's survival becomes her priority. Bales calls him "John" and single-mindedly devotes herself to his safety, despite any plans Mother Nature may have for them. His appearance only brings up a few questions for viewers, as "John" is initially in a state of semi-consciousness, making him prone to somewhat violent outbursts and indigence, despite the best attempts by Bales to save him.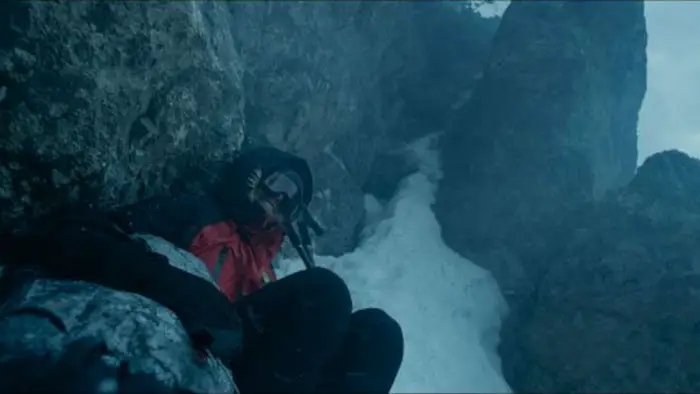 "…Bales sees sneaker tracks imprinted in the snow, and her search-and-rescue instincts kick in."
Infinite Storm, directed by Malgorzata Szumowska and written by Joshua Rollins, is decidedly lean in its narrative thrust. The filmmakers purposefully drop breadcrumbs for audiences along the way to follow but never linger in mawkish sentimentality with the limited cast. They also never resort to dramatic license by tossing in hypothetical life-threatening elements that were not within the true-life tale.
Additionally, the film's not concerned with the flash and flare of the ascent or escape. Acclaimed Polish director Szumowska instead focuses on the serenity of the vistas, as that is what Bales' sought with her climb to help silence the voices from her past that haunt her. Kaminska Bistrica valley in Kamnik, Slovenia, is a suitably stunning stand-in for the New Hampshire summit. Its dangerous beauty is on full display thanks to Szumowska's longtime cinematographer Michal Englert.
Settings aside, Infinite Storm is Watt's show, and she is thoroughly invested. From the opening moments of solitary preparation to the final frame, we are invested in the welfare of Bales and, eventually, John's fate as well. The way in which Watts stops to survey the snow-capped forests from above the tree line makes Bales someone we would be fortunate to cross paths with in precarious situations.
Everything converges in a powerful connective strand that is overwhelmingly meaningful and dramatically eloquent during the concluding sequences. Those seeking nerve-fraying action will not be disappointed as there are some truly harrowing moments in which we can all but feel the frostbite slowly creep onto the skin. But the true treasure of Infinite Storm is not the titular weather event but rather the trail that led both Bales and John to connect.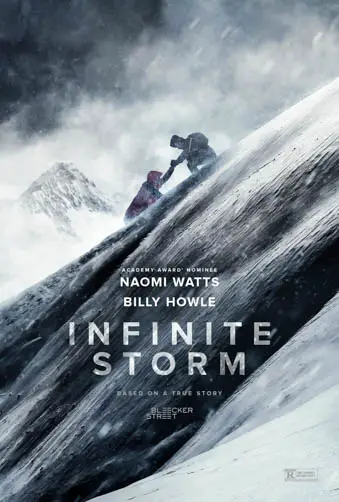 "…converges in a powerful connective strand that is overwhelmingly meaningful and dramatically eloquent..."