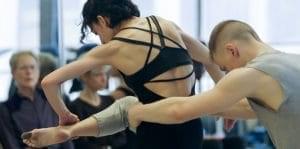 Up until somewhat recently, the extent of my modern dance knowledge was knowing who Martha Graham is, and seeing the "Running Up That Hill" and "Wuthering Heights" videos by Kate Bush about a million times. I don't know too much more now, but my interest in the phenomenon was piqued when narrative films explored the arena. The Suspiria remake decidedly opened my mind to the reality of how brutal being a dancer can be. Then Gaspar Nöe's Climax built upon that premise, and most recently we have some nods to modern dance in Jordan Peele's Us.  That being said, I feel that most "normal" people don't "get" modern dance as much as they would ballet or tap or ballroom. Seeing If the Dancer Dances could change that perspective for some people.
Stephen Petronio is a famous New York-based dancer and choreographer with his own eponymous company. He has a distinct style of choreography which is a wild freestyle that all of his dancers embrace and embody. Then Petronio decides to re-stage a classic modern dance piece from the extremely well-respected late Merce Cunningham called "Rainforest." Cunningham's style was very different from Petronio's and frankly anyone else's. He was one of the few choreographers who rehearsed and staged his pieces without the music that would be played in the live performance. He would partner with experimental musicians such as John Cage and David Tudor to create multi-discipline art experiences. He also loved to have more of a controlled, abstract quality to the physicality of his pieces.
"…a distinct style of choreography which is a wild freestyle that all of his dancers embrace and embody."
We see footage from the many iterations of "Rainforest" prior to the one we're watching come to fruition, including the original performance with Andy Warhol set design and costumes made by Jasper Johns. The pressure for Stephen, the dancers, and the stagers is palpable. In case you weren't quite sure what a stager is, which I didn't prior to watching this, it is a person who has worked with a particular dance company previously who shows another dance company how the piece was presented. There are three members of the Merce Cunningham Trust who stage "Rainforest" for the Petronio Company: Andrea Weber, Meg Harper, and Rashaun Mitchell.
The stagers work with the dancers for three weeks in the fall. The principal dancers in the piece are Davalois Fearon (Dava) and Gino Grenek. They are joined by Jaqlin Medlock and Nick Sciscione. The process of discovering how to move properly according to Merce Cunningham's style proves taxing on the dancers and the stagers. Particularly Andrea Weber, who seems anxious the entire time. It's understandable though, considering she is helping spread the legacy of her longtime teacher. We get different perspectives on the work from other dancers who danced the piece such as Gus Solomons Jr. and Sandra Neels. They all have different interpretations of "Rainforest" and how it should be done, and it's fascinating to see the difference in everyone's viewpoint.
"It validates all the blood, sweat, and tears that go into any creative endeavor…"
We follow the dancers from their homes to the studios and hear their joys and pains in relation to "Rainforest." Everyone has their doubts, and if you've ever worked in theater or any other type of live performance, you can relate to these concepts. It's interesting to me that people still have anxiety about performances when they're at such a high professional level. It's very inspiring to know that everyone has to keep learning, even "experts." Stephen Petronio himself, who is a masterful force of nature, says "The closer we get, the more I realize I'm f*****g insane for doing this," and this was on the day of the final rehearsal.
If the Dancer Dances is obviously a must-see for any dancer, but even more than that, it's a good viewing experience for artists of any discipline. It validates all the blood, sweat, and tears that go into any creative endeavor. It's great to know that everyone feels doubt and isn't perfect right from the get-go. I think that people who want to understand more about the creative process, in general, would get a lot from seeing this film as well. We witness the building of a dance piece from inception to performance which is a privilege that most of us don't experience unless we're in the leotards ourselves. After watching this film, I found myself wanting to know more about modern dance and appreciating the strenuous hard work involved. So if that was Maia Wechsler and her team's mission, they accomplished it.
If the Dancer Dances (2019) Directed by Maia Wechsler. Starring Stephen Petronio, Davalois Fearon, Gino Grenek, Meg Harper, Jaqlin Medlock, Rashaun Mitchell, Sandra Neels, Albert Reid, Silas Riener, Nick Sciscione, Gus Solomons Jr., Emily Stone, Joshua Tuason, David Vaughn, Andrea Weber.
8 out of 10 stars