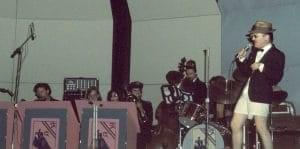 Icepick to the Moon is a jaw-dropping, fun documentary by director Skizz Cyzyk about The Rev. Fred Lane from Tuscaloosa, Alabama. He's an obscure, wildly strange, pants­-free, Band-Aid ­adorned, out-there singer / performance artist who has had a cult following since the Eighties when his two albums became popular on college radio.
Lane sings in a style described as "stripmine crooning," whatever that means. It's energetic, talented lounge music with rambling, uncanny lyrics. He is regarded by his frighteningly obsessed fans as subversive, satirical, the Dada Duke Ellington, and a Demon Frank Sinatra. The music sounds like a speakeasy in hell, but in a good way, with solid musicianship and vocals. Fred Lane's albums are monuments of whimsical absurdity right down to the cover art. The covers are busily crammed with misinformation, including collections of art for other, nonexistent albums. They serve only to muddy the waters and confuse, just coherent enough to tantalize you into thinking there might be some deeper meaning, and there might be, who's to say otherwise?
"… jaw-dropping, fun documentary by director Skizz Cyzyk about The Rev. Fred Lane…"
Fred Lane was involved with the Raudelunas arts collective at the University of Alabama in the Seventies. The Raudelunas occupied the countercultural, artistic fringe of the school during the era of George Wallace. They were a thorn in the side of the administration, finding loopholes in school rules that allowed them to borrow instruments, set up concerts and art shows on campus, and march in the annual Homecoming Parade. Many fans found inspiration in them, including famed musician and actor Col. Bruce Hampton, who was interviewed for the film. 
"…borrow instruments, set up concerts and art shows on campus, and march in the annual Homecoming Parade…"
This music and studied lunacy could only come from the specific dark absurdity peculiar to Southern life without wealth and deep old cultural traditions steeped in religion and superstition.
Many artists have tried to express the feeling of the South. Athens, Georgia singer / songwriter Jim White's album The Mysterious Tale Of How I Shouted Wrong-Eyed Jesus and the exploration of poverty and religion in the film Searching for the Wrong-Eyed Jesus inspired by that album are similar surreal road trips through a parallel universe called the South. White has just released another album exploring these themes called Waffles, Triangles, and Jesus. This special blend of the practical and the supernatural is also evident in the works of folk artist Rev. Howard Finster. A visit to his legacy museum called Paradise Garden at his home in Summerville, Georgia is a walk through that gentle madness. William Faulkner, Flannery O'Conner, Harper Lee, Cormac McCarthy, and many other Southern writers have shared this mystique in words. Fred Lane put it to music. 
Southern film, music, literature, and the like can be enjoyed as a one-off tour of the culture, or can be your gateway to an immersive experience in this old yet constantly evolving world. Find an old car, drive to Athens, and begin your quest. You might be so enchanted that you don't come back. 
"… sounds like a speakeasy in hell, but in a good way …"
This memoir of Lane's willful weirdness is seen through the eyes of fans past and present and his friends / co-conspirators from the old days at Alabama. It looks like they had a hell of a lot of fun and maybe more than their share of psychotropic drugs? Pure speculation there.
A third album could possibly be in the works, also called Icepick to the Moon, but exactly when is unclear. According to director Cyzyk: "Icepick To The Moon was the name of an album Shimmy Disc Records said was coming soon back in the late Eighties. It never came. It turns out it was never even recorded, but the fans didn't know that. We thought it existed and we just never found a copy. I decided to name the film Icepick To The Moon, knowing that the fans would get the reference. Then last year, after I was finished editing the documentary, I found out Fred Lane was in the process of finally recording that album. So, in the true Fred Lane/Raudelunas style of complication and confusion, the film is named after an album that didn't exist, which might actually exist soon."
It took Cyzyk 19 years, but he does the story justice: the film will delight and confuse. It's fortunate for us that he opened this door to the strangely compelling magic of weirdness, music, serendipity, and the deliberate Southern mindfuck that is The Reverend Doctor Fred Lane.
Icepick To The Moon (2018) Directed by: Skizz Cyzyk. Starring: Tim Reed, Bruce Hampton, David Greenberger, Mark Lanter. World Premiere at the Chattanooga Film Festival, April 5-8, 2018, in Chattanooga, Tennessee. Find out more from the Documentary website and the FaceBook Page. 
8 out of 10