MEMPHIS INDIE FILM FESTIVAL 2020 REVIEW! Gillian Wallace Horvat has directed one of the best mockumentaries I've seen in a while called I Blame Society. Horvat plays a twisted version of herself—a filmmaker who can't seem to get her career off the ground. At the beginning of the film, she tells her friend Chase (Chase Williamson) that she received a compliment from some friends that she would make a really good murderer. So Gillian gets the idea to make a movie showing how she would hypothetically murder someone.
The "someone" in question is Chase's girlfriend, who Gillian refers to as Stalin (Alexia Rasmussen). Stalin is the worst person she could think of, so it only makes sense that's who she'd kill. After the initial meeting with Chase, Gillian scraps the idea for three years while working on another script. When that goes nowhere, she decides to resume the murder project, and she dives in with gusto. Gillian ends up taking the concept a little bit too seriously, and this results in a fascinating serial killer movie in the vein of Man Bites Dog.
Horvat is both hilarious and creepy as this exaggerated psychotic version of herself. I Blame Society shows how hard it is to become a successful filmmaker, especially if you're a woman. Even now, with the commodification of diverse voices, the people who run the show are still the same white dudes they always have been. Horvat lampoons this in a scene with two male producers who keep saying how important "strong female leads" and "intersectionality" are. Still, you can tell they're only doing this to cover their a***s, especially when one of the producers has trouble saying the word and says, "intersexuality."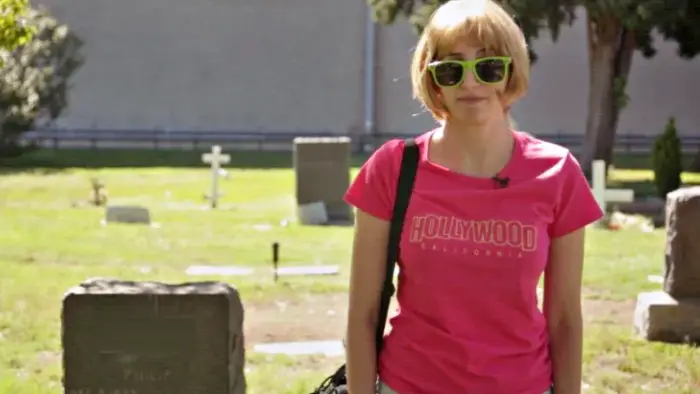 "Gillian gets the idea to make a movie showing how she would hypothetically murder someone…"
While I Blame Society inherently deals with feminist concepts, it's also a movie about murder. There are several cool set pieces that rival the best of any well-made indie horror film. The script, which is written by Horvat and Williamson, is hilarious while also being thought-provoking. It truly encompasses the difficulties in becoming a successful director. A line that really resonates with me on my journey in becoming a screenwriter-director is, "I could go to law school, but I'm not ready to give up. I feel like I'm close. That's probably what most delusional people say." It's so relatable, and honestly, I think it captures a truth about all creative types. You have to be a little bit delusional to make any progress.
The odds are almost always stacked against you, especially if you're a woman or poor. It's an uphill battle, and it sucks feeling like no one understands your vision. So while the action in I Blame Society is over the top, the concept of going crazy trying to make your first movie is all too real. It doesn't even have to be your first. Look at how crazy Francis Ford Coppola went during Apocalypse Now.
In some ways, I totally believe that you have to be at least a little bit insane to want to follow an artistic career path. I Blame Society takes that ball and runs with it to a successfully awesome finish line. So please check it out, especially if you're an aspiring or established filmmaker. Even if you're not, this movie is a whole lot of creepy fun.
I Blame Society screened at the 2020 edition of the Memphis Indie Film Festival.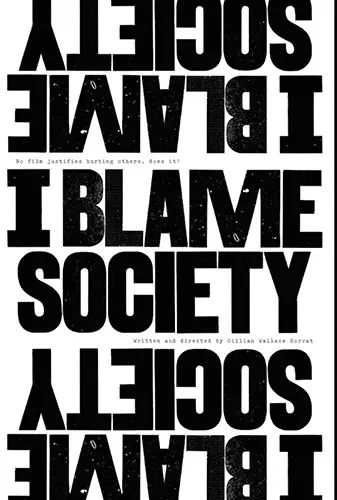 "…a whole lot of creepy fun."