To the average person on the street, the name Hurley Haywood may not mean all that much. In the world of auto racing, however, Haywood remains nothing short of a legend. Throughout a four-decades-long career, Haywood made a name for himself as one of the most successful endurance racers of all time. Among his many awards: two first-place finishes at the 12 Hours of Sebring, three at the 24 Hours of Le Mans, and a record five at the Rolex 24 at Daytona.
On the whole, Derek Dodge's Hurley aims to offer a look at the "man behind the legend." As he shows us, life beyond the racetrack wasn't exactly easy for Haywood and his frequent racing partner, a Harvard-educated New Yorker named Peter Gregg. In Gregg's case, for instance, his competitive, aggressive personality left him incapable of maintaining long-term relationships. And although he had mental health problems, he believed that he was strong enough to overcome them without medication, a decision that likely precipitated his untimely suicide at age 40.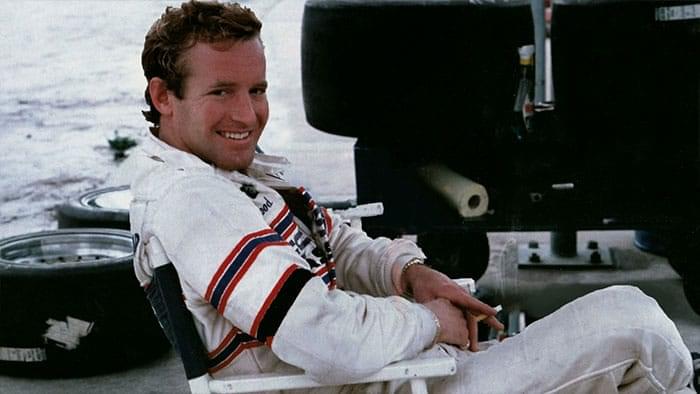 "…we learn that he's gay…the racing world defined itself with a macho conception of success…"
With Haywood, meanwhile, we learn that he's gay. That may seem rather unremarkable to us, but as Haywood himself repeatedly notes, the culture was different in his heyday. Back then, the racing world defined itself with a macho conception of success, in which handsome, buff male racers won glory as well as adoring trophy wives. Ultimately, this meant that Haywood never felt comfortable appearing in public with his longtime partner, Steve Hill. Whenever Haywood won, Hill invariably found himself celebrating from behind a chain link fence, not on the winners' podium.
Generally speaking, unfortunately, there are two things about Dodge's work that'll probably leave you frustrated. To start, it never quite figures out what it wants to be. At times, the film is a focused examination of the racing world's latent sexism and homophobia. At other times, however, it presents itself as a more generalized portrait of the stress that competitive sports inflict on athletes. And at still other times, it offers nothing more than a banal, hagiographic recitation of Haywood's many accomplishments, outlining the kind of information you could easily find on Wikipedia.
"…a focused examination of the racing world's latent sexism and homophobia."
Meanwhile, Hurley is also hampered by its over-reliance on interviews. To put it slightly differently: if this movie were just an audiobook, it wouldn't lose much. The archival footage and shots that Dodge includes add little of value to the things that the interviewees say. Partially as a result of this, the film might feel a bit unpersuasive: the interviewees' many assertions will leave you wondering, "Really? Do you have any evidence for that other than your own personal impressions?"  
Still, in the end, this film proves worth a watch. If you're not particularly into racing like me, it'll serve as a welcome introduction to Haywood, a person who stands out for both his achievements and his kindness. And even if the film doesn't make its points very effectively, it still provides a reminder that success and glory always come with a cost.
Hurley (2019) Directed by Derek Dodge. Featuring Hurley Haywood.
5 out of 10