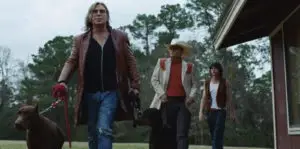 NOW ON VOD! Come see what grindhouse movies of the future look like with the post-exploitation epic Hunt Club, directed by director Elizabeth Blake-Thomas and written by David Lipper and John F. Saunders. Thirsty and miserable Cassandra (Mena Suvari) drunk drives her way to the liquor store. She stumbles into a dark alley and finds herself in a circle of rapists. Out of nowhere, Tessa (Maya Stojan) swoops in like a cobra and starts beating them up.
Flash forward to a roadside diner where Carter (Casper Van Dien) is having breakfast with his son Jackson (Will Peltz). Jackson, who is in his late teens, is nervous as his father is taking him out to a private island for his first outing with the Hunt Club. Carter reiterates how this will be a rite of manhood for Jackson and how Carter was nervous on his first hunt. Cassandra and Tessa walk in together and sit at the counter. Tessa catches Cassandra staring too long at Jackson and storms out of the diner in a fit of jealousy. Carter invites Cassandra to their table as she's stranded and broke. Carter then invites Cassandra to join him and Jackson for the hunt and a chance at winning the big $100,000 prize.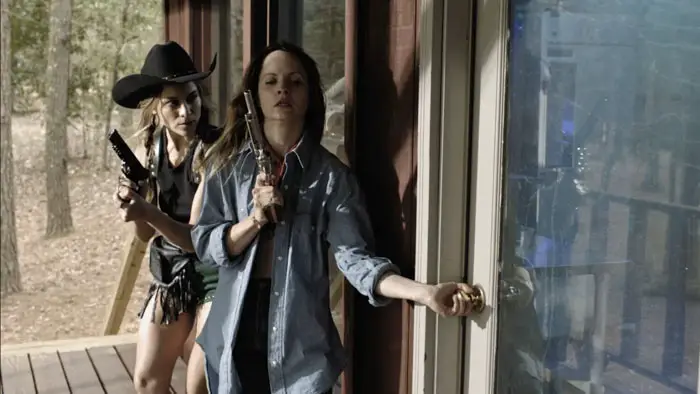 "…the women are the prey, and the $100,000 prize is for whichever one isn't slaughtered by sunrise."
Out on the island, Cassandra meets the other hunters, including Teddy (Jason London), Preston (Jeremy London), Conrad (David Lipper), and Williams (Kipp Tribble). Most are rich businessmen who are on a getaway. She also meets Lexi (Jessica Belkin), who ended up on the hunt through a sugar daddy website. At dinner, Cassandra starts feeling woozy and passes out. She wakes up in a barn filled with women in chains guarded by the sinister Virgil (Mickey Rourke) and his vicious attack dogs. It turns out the women are the prey, and the $100,000 prize is for whichever one isn't slaughtered by sunrise.
Blake-Thomas has crafted an absolutely ferocious cinematic scum opera, a juggernaut of post-exploitation fury. You would have to return to Jack Hill's classics to find another captured woman film this captivating. As nudity is no longer a commodity, Hunt Club skips the flesh and goes straight for the jugular. This is a new breed of caged woman film that female audiences will relish. Without the skin, all of the sleaziest elements come into much sharper focus without the camera having to m********e constantly.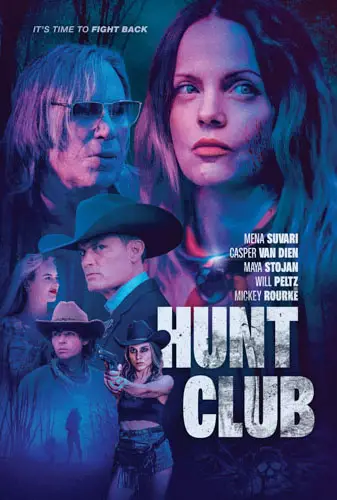 "…a juggernaut of post-exploitation fury."