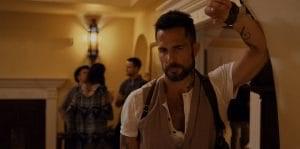 Being a working, but unknown actor, even one with the talent and looks to have a legitimate shot at making it in Hollywood, has to be a frustrating experience. Even if you're doing well on the audition circuit, picking up screen time and paychecks wherever you can, there's never any guarantee that the exact right role in the exact right project will come along to catapult your career to the next level.
Thus, you've got to admire the chutzpah of those determined performers who, rather than just taking their chances in other people's films, grab the bull by the horns and just make their own damn movie to star in. It worked for the likes of Lena Dunham and Brit Marling and even Vin Diesel, and it comes with the added bonus of an above-the-line credit that proves your worth behind the scenes, as well – not too bad a deal.
One of the latest to go this particular route is Hallie Shepherd, who wrote and plays the lead in the indie thriller Last Seen in Idaho. Directed by Eric Colley (who himself appears as a pivotal supporting character), the film surely gives Shepherd a lot to do. Her character, Summer, witnesses a politically connected murder, survives a horrific car wreck while fleeing the scene, suffers from amnesia that prevents her from recalling the killing and the ensuing crash, and begins having psychic episodes in which she foresees her own kidnapping and murder. She's also got a dark romantic past involving one of the perpetrators of the murder she witnessed, as well as a younger sister (Alexis Monnie) she's desperate to keep out of trouble.
"…a dark romantic past involving…perpetrators of the murder…"
Acting-wise, Shepherd acclimates herself fairly well to all of this, but unfortunately, the film ends up being a less successful showcase for her talents than it should be, hamstrung by pedestrian dialogue, murky storytelling, and a handful of annoying supporting characters that – rather than providing interesting foils for Shepherd to play against – just grate on viewers' nerves.