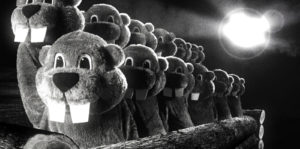 CINEQUEST FILM FESTIVAL 2023 REVIEW! You will not believe the blast you are in for with the earth-shaking, silent, black-and-white feature Hundreds of Beavers, directed by Mike Cheslik, who wrote the film alongside star Ryland Brickson Cole Tews. Their main inspiration appears to be the trailblazing Max Fleischer cartoons featuring Betty Boop and Popeye. Fleischer's unique body of work has been a hand-drawn North star for many.
Jean (Tews) runs a fermented apple cider distillery in the 19th-century Great Lakes region. All the trappers stop by his place to get smashed on his high-powered apple jack. He is always so blitzed that he doesn't notice the beavers chewing away at the wooden legs of his cider silos. Calamity ensues, leaving the once prosperous Jean with no more apple jack and no more orchards to make more. Now, Jean wanders the woods, trying to stay alive.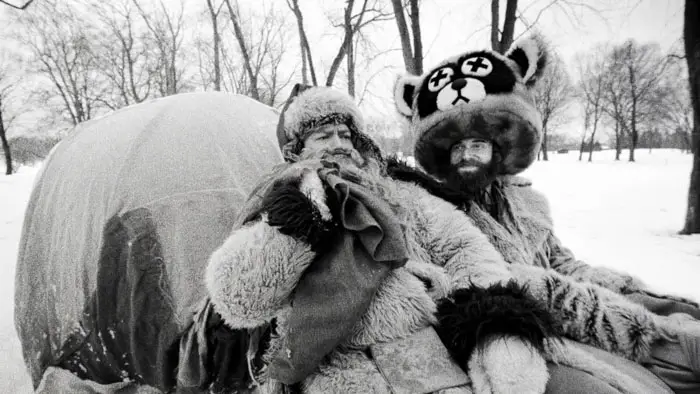 "…the price to marry his daughter is hundreds of beavers."
Finally, Jean finds a cabin in the woods run by a fur merchant (Doug Mancheski), who will trade dead animals for supplies and traps. The animals are skinned by the furrier (Olivia Graves), who is also the merchant's daughter. The daughter takes a shine to Jean, but the tobacco-chewing merchant would rather she be wed to the more successful master trapper (Wes Tank). Jean slowly learns the trapping trade with the help of the master trapper as well as a very handy native (Luis Rico). Finally, after battling the elements and woodland creatures, Jean gets up the guts to ask for the daughter's hand in marriage. That's when the fur merchant lets him know that the price to marry his daughter is hundreds of beavers.
Throughout Hundreds of Beavers, the filmmakers inject the acting and atmosphere with silent clown methods, a la Buster Keaton and Harold Lloyd. There are also references to the Chuck Jones era Merry Melodies, notably the Road Runner. One of my favorite recurring allusions is Tews imagining different animals as fully cooked meals, including anachronistic pepperoni pizza slices. As the lead, Tews hits that perfect level of psychical comedy that transmits maximum reactions without turning into ham salad (just like the Vaudeville stars of yesteryear). Graves and Mancheski also get the pitch right, bringing the old Popeye-style archetypes into flesh and blood.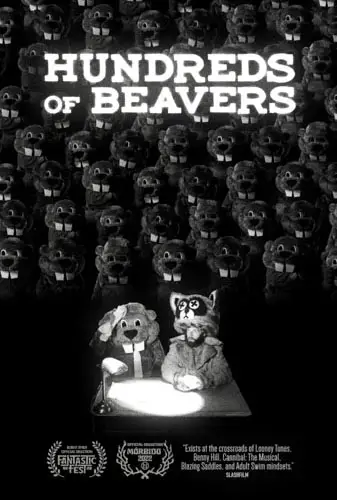 "…proof that Wisconsin produces the strangest independent movies..."