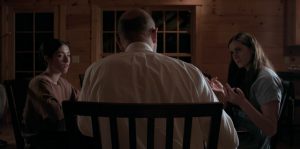 Silence & Darkness is the feature-length debut of Barak Barkan and is being billed as a drama with Hitchcockian overtones. While not inaccurate, it does not entirely convey the oppressive isolation and slow-burn of the film. And, presumably unintentionally, it does bring to mind a certain level of action that is simply not present; mind you, that is not a complaint, just setting/ adjusting expectations. But what is the movie about?
Sisters Anna (Mina Walker) and Beth (Joan Glackin) live in a secluded small town (while filmed in Vermont, the name and state of their residency are never mentioned) with their Father (Jordan Lage), the town's doctor. The sisters are incredibly close, in part due to their isolated life, and because Anna is blind and Beth is deaf. But these disabilities do not slow either one of them down, though Anna takes charge more often, but Beth seems happy just enjoying her sister's company. The girls go to town for errands and are preparing for the forthcoming talent show, but stay at their house, whose backyard runs directly into the woods.
"Things seem idyllic…all that changes when…Mrs. Bishop's urgent pleas set Anna and Beth down a path of self-discovery…"
Things seem idyllic, even if Father appears distant at times. However, all that changes when, one morning, their neighbor Mrs. Bishop (Sandra Gartner), comes pounding on the door in a tizzy. See, while walking her dog, the pooch uncovered some bones that she believes are human. Father reassures the lady that he will deal with it as soon as possible. Mrs. Bishop's urgent pleas set Anna and Beth down a path of self-discovery, one that is filled with trauma, sorrow, and secrets.
Silence & Darkness is a brisk 80-minutes, give or take, with about half of all character development and set up. For the most part, Barkan rewards patient viewers, but there are a few missteps along the way that hold it back from true greatness (near though it comes). Some sequences are far too dark to tell what is happening properly. There is a moment where one of the girls gets up just as the sun's rays are piercing the sky, so it is mostly dark out, and she's wandering about, eventually making it outside, where Father is doing something in the backyard. However, this moment was so dark, from her sliding out of bed until seconds before it was over, that for the majority of it, I was unaware of which sister this was.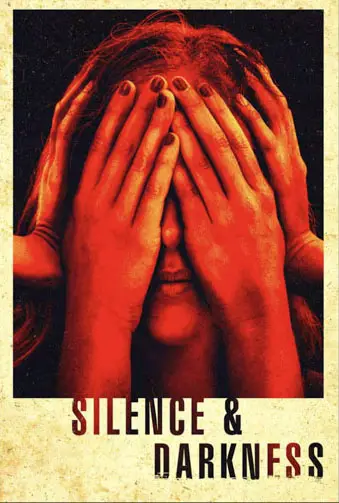 "…a drama with Hitchcockian overtones."