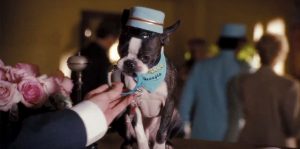 "I bet when you find him, you're gonna say thank god it's Friday." – Dave (Johnny Simmons) to Andi (Emma Roberts) about Friday, her brother's missing dog.
Hearing that line during Hotel for Dogs, I could have gotten audibly angry, even in a crowded theater full of kids, over what sounded abjectly stupid, or just gone with it. I chose the latter because considering the scene between Dave, a teenage pet store employee, and foster home veteran Andi, and considering the audience for Hotel for Dogs, dialogue from Charlie Kaufman can't be expected. Yet, it's charming watching lots of dogs make their home in an abandoned hotel and feeling the desire from this film to be liked just as any dog would, first with Friday.
He watches the pedestrians around him in the thick of a nondescript city, based on what his nose senses. He sees a few hot dogs being eaten, decides he wants one, and stealthily slips out of his leash-attached collar, soon waiting next to a guy who's not about to give up his hot dog. Enter the expected opportunity, where the guy stands up, trying to avoid Friday, and is splashed by a passing vehicle. Friday grabs the hot dog and is back in his collar by the time Andi and her inventive brother Bruce (Jake T. Austin) come around for him.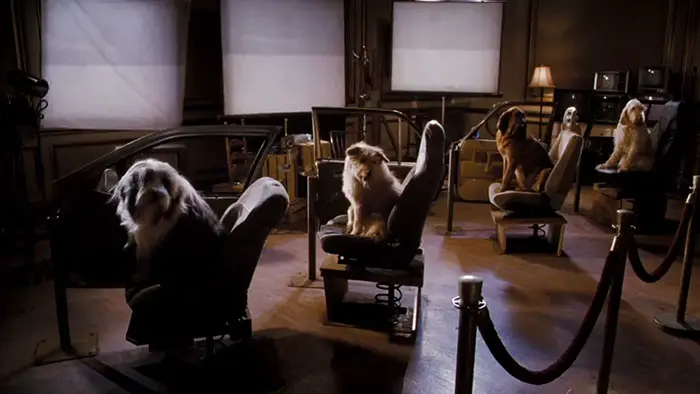 "Andi and Bruce go in to post flyers of Friday in the hope that the missing dog will be found."
"Hotel for Dogs" is naturally attractive because of the sheer number of dogs in the film, suitable for any dog lover such as myself, especially as the dogs in that abandoned hotel (to which Friday leads Andi and Bruce) give way to constantly considering which of their actions matches the two dogs I own. Fortunately for screenwriters, Jeff Lowell, Bob Schooley and Mark McCorkle, these many dogs, some eager, others reserved, and one with three legs, get enough screen time to overshadow the weaknesses in the film, from a few of the characters fitting so easily into the plot that they don't trigger much interest, to a speech that wouldn't be touching in other circumstances.
The characters in question are perky Heather (Kyla Pratt) and this-close-to-missing-out-on-High-School-Musical Dave, who works at a pet store, which includes a van with a dog nose on the front, ears, and a slowly wagging tail in the back. Andi and Bruce go in to post flyers of Friday in the hope that the missing dog will be found. It appears from the start, based on Heather's babbling, that she's attracted to Dave, but once Andi meets Dave, that's it, and what could be expected, considering Emma Roberts' family line? Director Thor Freudenthal (yes, real name) knows the value of her presence and lets her remain central to the goings-on in her scenes (he, however, does not know how to rein in composer John Debney's blaring, bothersome, overly manipulative score). Hopefully Roberts and Jake T. Austin—whose Bruce has a mechanical mind enough to build wonderful devices and machines to help feed and entertain and maintain the dogs in that hotel—appear in stronger films. They've got the skills for it, coming from separate TV shows on Nickelodeon (Roberts in "Unfabulous") and the Disney Channel (Austin in "Wizards of Waverly Place"). It sounds impossible that anyone talented could emerge from recent fare on both channels, but there they are. Now Hollywood just has to build more on that talent.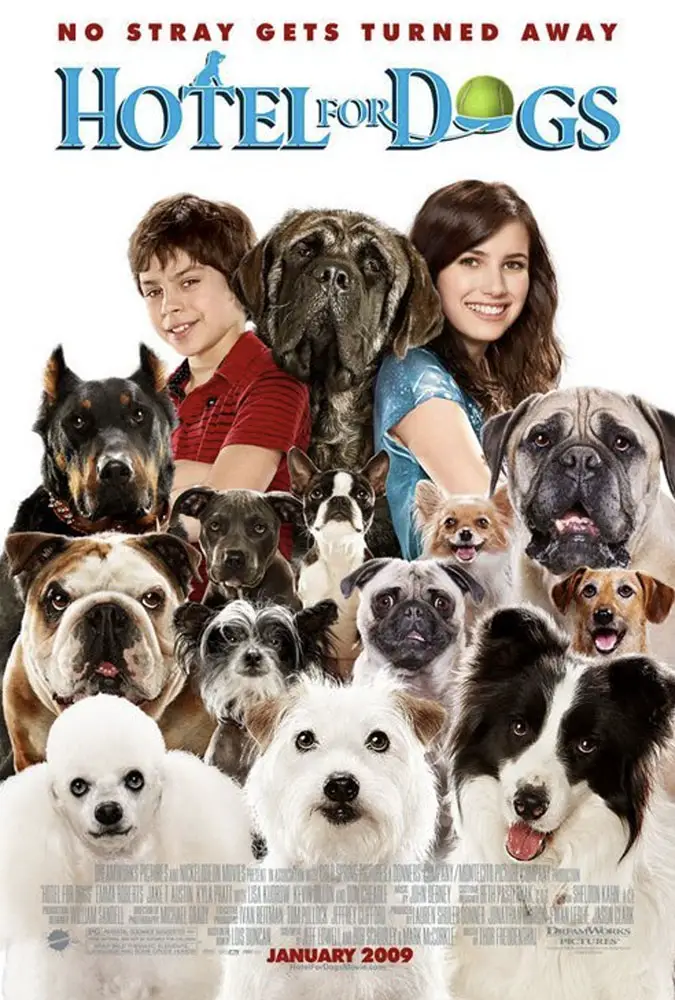 "…it's charming watching lots of dogs make their home in an abandoned hotel..."