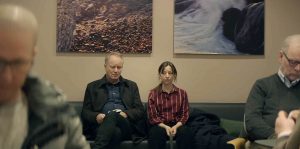 "I often say you should give children 10% more hope than you have yourself," a doctor tells his dying patient in Maria Sødahl's Norwegian drama Hope. This is the writer and director's first feature in ten years, and she delicately and probingly deals with the most challenging and grimmest subject: terminal illness. So many filmmakers get it wrong, falling into the fiery pits of tear-jerking sentimentality or sugarcoating the topic with a glossy sheen. Not Sødahl. Hope is so artful, understated, compassionate, and deeply penetrating, it almost hurts to watch.
Anja (Andrea Bræin Hovig) and Tomas (Stellan Skarsgård) are successful artists and partners. Over the years, they have grown apart, each engulfed in their own world, without even realizing it. It takes a life-changing diagnosis – the discovery of a malignant tumor in Anja's brain – for them to see just how far from each other they've drifted. Now it's time to rebuild and mend while they still have time. Perhaps, even, time to say their marriage vows.
How do you go on with the daily routine – chores, interacting with loved ones, taking a nap or a bath, reading a book, posing for a Christmas photograph – when death looms over you with its scythe? How do you keep your calm and still be the matriarch of a family? How do you tell your children?
There are so many little moments throughout Hope that are gargantuan in their implications. Anja suddenly makes her daughter promise to stop smoking. Anja and Tomas share some revelations in the car before dinner. Anja's bedroom birthday could be a standalone short film. "I don't need you to love me because I'm dying," Anja tells Tomas early on. "I just need you to help me."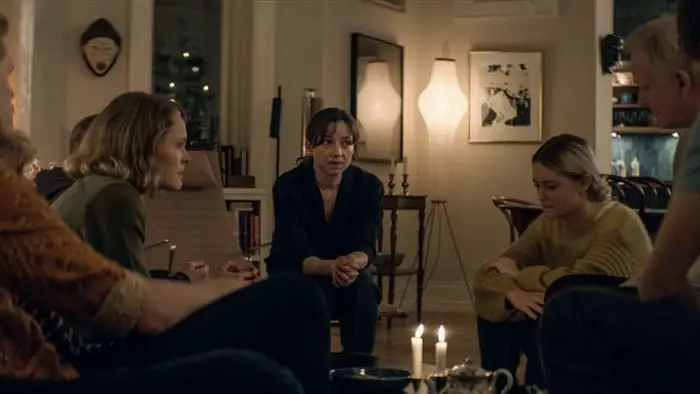 "…the discovery of a malignant tumor in Anja's brain…[causes] them to see just how far from each other they've drifted."
This isn't Stepmom, thank goodness. There are no scenes involving cutesy kids entering a room, bidding their sick mother farewell one by one. Sødahl maintains verisimilitude, keeping things restrained. Her control as a director and succinctness as a writer is remarkable. She alleviates some of the heaviness with moments of wit and humanity. The filmmaker has been through this horrific ordeal herself, so every minute feels painfully genuine; "resonant" simply doesn't do Hope justice – it's as sublime as it is utterly gut-wrenching.
Cinematographer Manuel Alberto Claro, who's worked with Lars von Trier on, arguably, his most visually stunning work, brings his A-game. His camerawork imbues the perfectly composed, though sometimes shaky, frames with an elegance that feels like a natural extension of the subtle writing and graceful directing. He catches every nuance, each emotional shade. It's spectacular in how unpretentious it is.
Andrea Bræin Hovig is simply transcendent as Anja. She's resolute and horribly frightened, loving Tomas so deeply that hurting him torments her more than her illness. With a wisp of a smile or a frown, Hovig speaks volumes. Skarsgård effortlessly keeps up but graciously and subtly allows Hovig to deservedly stay in the spotlight. It's good to see the stalwart speak his native language. Not for a second will you question the palpable love, the tenderness, the unbreakable bond between the doomed lovebirds. If there were an award for "Most Devastating Sex Scene," these two would get it.
Like its central performance, Hope manages to convey and dissect so much with (seemingly) so little: the way real struggle makes us realize how much we love, truly see, and trust each other; the hidden reserves of human perseverance in the face of certain death; the healing power of art; and hope, of course. Hope and despair give life meaning, one unable to exist without the other.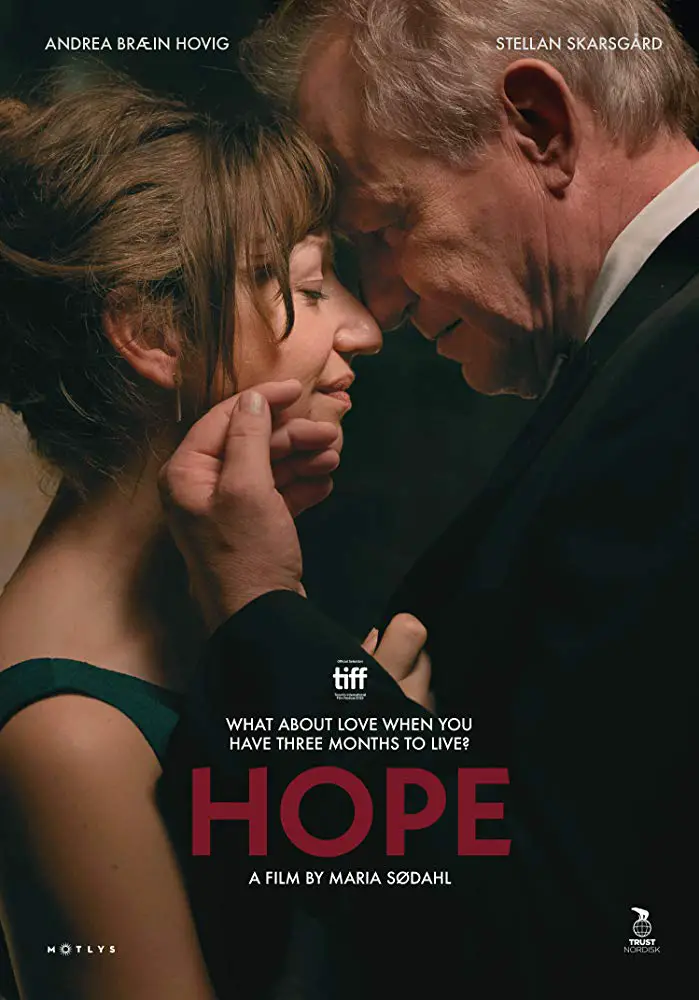 "…artful, understated, compassionate, and deeply penetrating..."