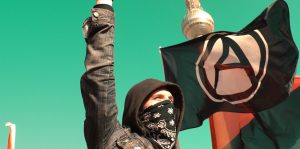 The last time I was in Berlin, the wall was still up. In HipBeat, modern Berlin is shown to be a city where the walls are definitely down. Walls of gender, oppression, keeping yourself from yourself, all barriers down, flat on the ground. Writer/director Samuel Kay Forrest puts Berlin's havens for weirdness on full display, creating a safe space for outsiders to find others like them. Punctuated by the rattle of spray paint cans, the drama is a trip to a queer wonderland where gender is less defined and restrictive. It is a visual feast of fantastic locations, otherworldly lighting, and the amazing Italo Disco pulse of Mr. Flagio.
Angus (Samuel Kay Forrest) is a fascism-fighting anarchist who's bringing the revolution to the streets of Berlin. He transforms swastika graffiti into boxes full of hearts and nice things. When not strolling the streets with spray cans, he rolls around in bed and on ecstasy with his girlfriend Angie (Marie Celine Yildrim), who haunts the nightlife scene with him. At clubs, Angus is living the punk rock life of Riley, with lollipops in his mouth and butter in his a*s. However, he feels the draw of something deeper inside him.
This deep-rooted desire solidifies when he speaks with a local drag queen, Judy (Judy LaDivina), about the bravery it must take to do what she does. Judy gives him guidance for his quest, and it's off to the bathroom stalls for drugs and anonymous encounters. Angie is oblivious to Angus's boundary exploration. Then one day, she walks in on Angus in a dress applying makeup. Secrets start coming up, and feelings start getting hurt.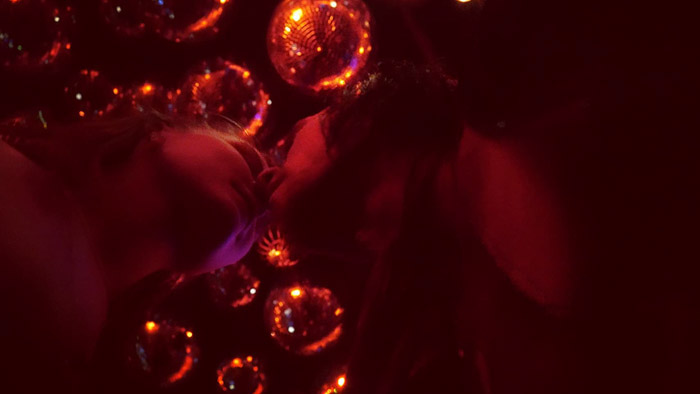 "…a trip to a queer wonderland where gender is less defined and restrictive."
The picture opens with an ocean of police at Berlin's May Day demonstration, where Angus gets arrested. The whole sequence seems amazingly real, and that is because it is. The footage was shot at the real May Day, and the filmmakers apparently were arrested, only getting off when it was discovered they were making a film. This guerrilla theater approach sets HipBeat afire, using actual locations filled with real Berlin weirdos to helps build Forrest's world of gender freedom. Joshua Monroe's fantastic cinematography captures the city's most artistic visual areas with lighting that is out of this world. Primary colors flare in just about every scene.
All of this comes to a head in the climatic club sequence that someone had the brilliance to put to the song "Take a Chance" by Italo Disco giant Mr. Flagio. It turns out the Italians did to disco what they did to westerns and horror: they made it grander and totally berserk. Mr. Flagio is the perfect music for this set-piece, and thanks to its wild lighting, the scene is like all the most impressive and least unpleasant aspects of Gasper Noe's work concentrated into a freebase cinematic excursion.
The acting really shows its power in the remarkable discovery sequence when Angie catches Angus in drag. The whole thing is shot in astoundingly long takes where Forrest and Yildrim perform the confrontation with nowhere to hide. It is quite a feat to allow yourself to be that uncomfortable for that long without the strings showing. The performances support the whole aura that is created over the social freedom of far-away Berlin.
HipBeat is an energetic work that is a modern take on cinematic freedom. It is like Easy Rider with dresses instead of motorcycles.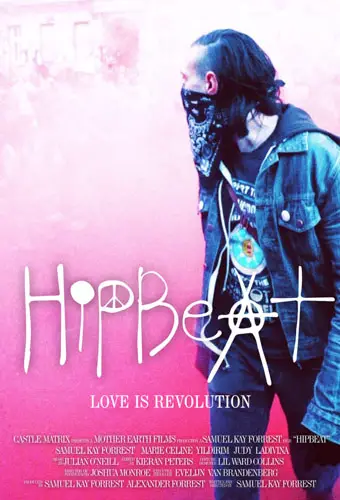 "…remarkable...energetic..."