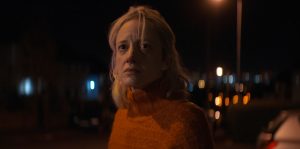 Gently paced and cryptically told, the filmmaker probes a compelling batch of characters. Everything from Megan's surreal responses to Marie's slight hostility toward Laura to Tadhg's amplified choler he has for Megan and Laura's extreme interest in Megan, Gregg deftly upholds the aura of mystery circling every character. While Laura is the absorbingly despondent and understatedly neurotic protagonist pushed to the edge, every character has an ulterior motive.
Through interactions with Megan, Laura is intrigued by her disposition and habits but caught off guard by the fact that she seemingly knows about the incident that took her daughter's life. Laura's obsession with Megan puts a strain on her relationship with her bushed husband and son, yielding quietly powerful scenes that aren't meandering or unfocused. The kernel of conflict in Here Before stems from the loss of a child, which helps viewers at least understand Laura's compulsive antics to a certain extent. But the vindication of what Laura does to uncover Megan's origins fluctuates throughout, up until the sensible conclusion, which ties things up neatly, albeit too quickly, while still appreciating heartbreak and disorder.
"Gently paced and cryptically told, the filmmaker probes a compelling batch of characters."
Andrea Riseborough gives an utterly captivating performance that is woven with surprising bouts of empathy and relatable gloom. Riseborough is fully capable of making Laura somebody viewers can sympathize with even as her suspected neurosis spirals out of control. After all, grief makes us do or see crazy things — like seeing the face of a deceased loved one on a passerby.
As genuinely devastating Here Before is based solely on the subject matter, Gregg ensures that the film remains in psychological thriller territory. Chloe Thomson's cinematography is gracefully moody, aided by static close-ups, smooth overhead shots, and clever composition that never keeps the subjects wholly aligned with the camera, possibly suggesting that the reality for all of the characters is slightly off.
Powered by the superb performances from Andrea Riseborough and Eileen O'Higgins, Stacey Gregg's Here Before is an impressive feature debut that functions exceptionally well as a staid psychological thriller with depths of intimacy and suffering. A parent's love for their child is often unconditional, and when they lose their child, it is hard to believe that life for them will ever return to normal. At one point, one character says, "Well, some things just can't be fixed. Doesn't mean you should stop trying." Here Before will unnerve and disturb you as much as it will paint a vivid depiction of grief that reflects parental fears.
Here Before screened at the 2021 SXSW Film Festival.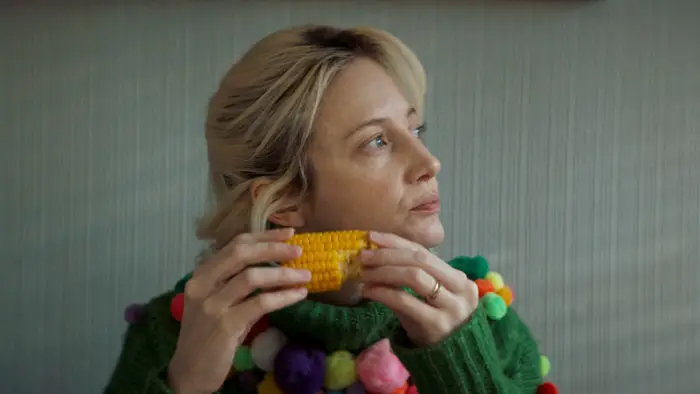 "…will unnerve and disturb you..."