I have to admit that I was completely against the idea of a Hellboy reboot when it was originally announced. As far as I was concerned, Guillermo Del Toro was the only person who could touch that film, and Ron Perlman was the only one who could wear the filed-down horns. As more announcements were made, my initial disgust for the idea turned into curiosity. I did love David Harbour in Stranger Things and Hellboy would be awesome if it had an R rating, considering the comics definitely leaned in that direction.  So, faced with a choice of movie to see today, I succumbed to my morbid curiosity and went to go see Neil Marshall and Andrew Cosby's interpretation of the classic Dark Horse comic book.
This version of Hellboy doesn't feature Liz Sherman and Abe Sapien. Instead, Hellboy's sidekicks are Major Ben Daimo (Daniel Dae Kim) and Alice Monaghan (Sasha Lane). Daimo's character is pretty faithful to the comics, although his backstory is not discussed in its entirety.  Alice Monaghan and Gruagach's storyline is explored but not as in depth as it is in the comics. There is a very cool cameo that I won't divulge, but anyone who read the comics will find it hilarious.
"…Nimue the Blood Queen returning from a living death to bring about 'The New Eden'"
Insofar as a movie that stands alone from its source material, the new interpretation of Hellboy is a bit too proud of the fact that it has an "R" rating. Everyone is so excited by the fact that they can say "f**k," they say it every five seconds. That doesn't personally bother me insofar as being inappropriate or anything like that, but it's just a little worthy of an eye-roll. I also feel like this film was made as an answer to the R-rated comic hijinks of Deadpool. There are far more jokes in this film than Del Toro's and on some level that's fine. There are some pretty great one-liners such as when Hellboy is rejecting Nimue, The Blood Queen (Milla Jovovich), he says "It's not going to work because I'm a Capricorn and you're f*****g nuts!"
However, much of the film felt rushed through, and there were too many obvious cuts and dumb inserts of heavy music signaling the fact that s**t's about to go down. To be completely fair there is a ton of action, and in my opinion, too much. I feel like there could have been more than a few seconds of explanation of the backstory of the characters. It seems that there are about two minutes of exposition before yet another brutal attack goes down. That said, the ultra-violent battle scenes stoked the genre lover in me. I just think the comics have such good story arcs that could have been utilized in the film.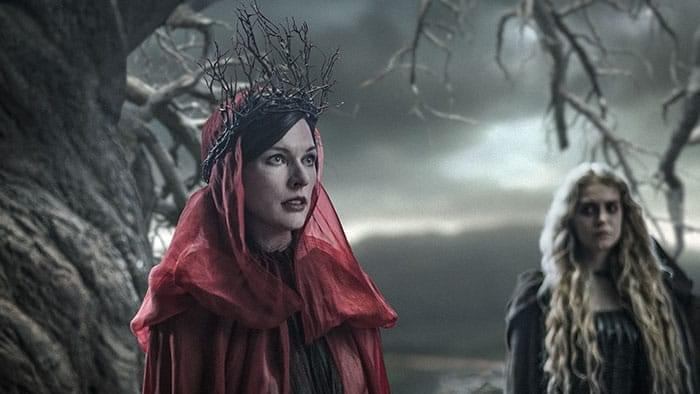 "…there are some key details Hellboy doesn't know about himself that makes the whole mission a little more complicated…"
The overall plot is about Nimue the Blood Queen returning from a living death to bring about "The New Eden" which is essentially a breeding ground for monsters and demons where all humans die of a particularly gruesome plague. Hellboy and The Bureau of Paranormal Research and Defense (B.P.R.D.) need to stop this from happening, but of course, there are some key details Hellboy doesn't know about himself that makes the whole mission a little more complicated, and there's more than the lion's share of bloodshed along the way.
I have no complaints about the acting in this film, mainly because Ian McShane can do no wrong in my opinion and I liked his portrayal of Professor Broom just as much as John Hurt's, even though they're very different. I have also loved Daniel Dae Kim since Lost so seeing him as Major Daimo was very exciting for me. Of course, David Harbour is good, if not a little goofy. Basically, the film is really cool in some aspects but definitely a little cringe-worthy in others. I think that if you are going to see this film, seeing it in the theater is a good idea because the makeup and special effects are incredible. With that, I'll say I didn't love it, but I didn't hate it either, as many other critics did (15% on Rotten Tomatoes…oof). It's perfectly entertaining, it's just not going to win any Oscars, but it doesn't need to, it's a summer movie for fans of the comic and adults who still feel like kids. If that's you, go see it!
Hellboy (2019) Directed by Neil Marshall. Written by Andrew Cosby. Based on the comic by Mike Mignola. Starring David Harbour, Ian McShane, Daniel Dae Kim, Sasha Lane, Milla Jovovich, Allistaire Petri, Brian Gleeson, Mark Stanley, Sophie Okonedo, Markos Rounthwaite, Thomas Haden Church.
5.5 out of 10 stars