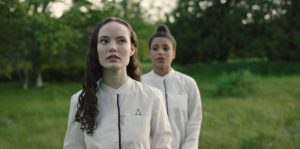 HOLLYSHORTS 2020 FILM FESTIVAL REVIEW! An overhead shot of trees opens Gloria Mercer's short film, Hekademia. The fleeting glimpse of nature viewers get is quickly replaced by a moody shot of a young woman staring out a window, with her hand carefully placed on its sill as if envisioning liberation from the very apartment she's confined in. 
Hekademia explores the relationship between technology and the real world. In the future, a timid teenager named Marion (Emma Soothill) experiences this firsthand when attending a virtual reality high school. It is somewhat unclear if virtual reality school is the new norm or if Marion simply prefers her education to be taught this way. Nonetheless, the fact that Marion enters the simulation is enough to drive the plot and reveal any thematic underpinning lying beneath. 
Mercer guides viewers on a rather sedate and alluring journey, which begins in a lusterless high-rise apartment that's occupied by an unsure teen and her bashful mother (an intriguingly calm Lissa Neptuno). Marion is silently contemplating what high school will look like virtually, and her mother isn't much help in alleviating her daughter's fears. It isn't long until the system of Hekademia is introduced, and in a mere second after putting on the goggles, Marion has entered a synthetic world that was meticulously designed for her: a gorgeous woodland setting, to be exact.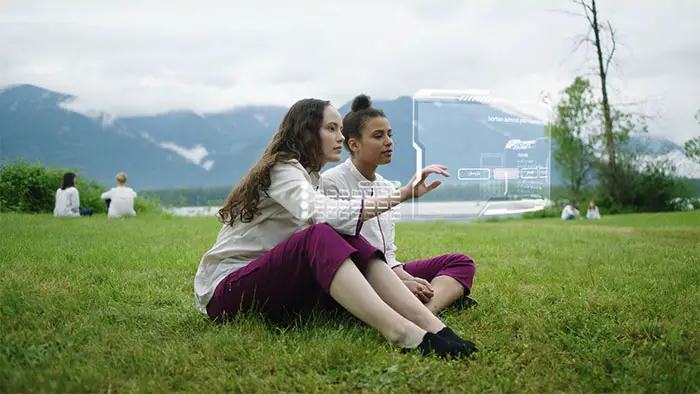 "…has trouble distinguishing what's real and what's worth valuing…"
Immediately after arriving in the false world, an omnipresent voice (Kaylah Zander) reassures Marion that her surroundings were made for her. Marion is instantly assigned a partner for the semester, and her name is Cassidy (Serena Crouse). Cassidy is the one who pushes Marion to open up while juggling schoolwork. But Marion has trouble distinguishing what's real and what's worth valuing, especially when artificiality is all around her. 
Gloria Mercer's Hekademia is an understated 16-minute short film that draws the line between real-life and technology, but with a vitalized perspective of a young woman who can't seem to accept any one of them. Emma Soothill delivers a splendidly muted performance as Marion. And it is Marion's undying hesitancy that propels the unshowy unpredictability of Marion's departure from either reality. 
Devan Scott's breathtaking cinematography is compiled of static wide shots enhanced by neat composition and striking locations. From the far glances of Vancouver to the scenic farm that Marion is continually immersed in, both of these locations provide a glaring boundary between technology and real-life — but even so, both can be wildly misleading. It's not uncommon to feel lost in the world. Hekademia makes it abundantly clear that most humans probe (or in some cases, fear) a certain reality or mentality they aren't fully comfortable with. 
Gloria Mercer's Hekademia is a stunning and well-acted sci-fi short that is softly paced. Whilst the unpresuming payoff feels oddly cold and partial, the film's modesty, overall neatness, and visual richness are hallmarks to behold. 
Hekademia screened at the 2020 Hollyshorts Film Festival.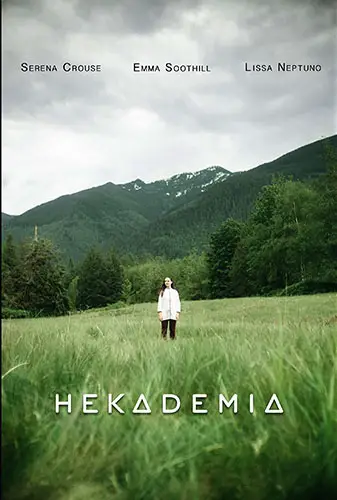 "…draws the line between real-life and technology..."