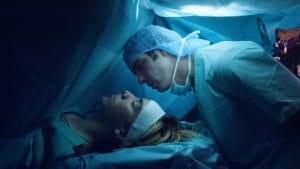 Heal the Living, a French-Belgian drama with the heart in the right place, marks the return of French director Katell Quillévéré (Suzanne), who co-wrote the script with Gilles Taurand based on Maylis de Kerangal's 2016 novel Mend the Living. His fourth feature interweaves three distinct stories linked by a heart transplant.
When the opening credits start to roll, a propelling pop/rock song surrounds us as we follow three young friends gathering in central Le Havre for a vibrant morning of surf. Simon Limbres (Gabin Verdet) left his girlfriend's room very early and pedaled at a high speed toward his friend's cute yellow van.
"… adopts an altruistic and positive posture, appealing as much to reason as to emotions."
As the surfers ride the waves with tremendous fun, sequential stunning shots taken from a variety of angles keep framing the huge masses of water hitting the camera lens with quite an impact.
Everything had been fascinating and the excitement of the physical activity makes them a bit sleepy on their way back. Hazardously sleepy, I should say, because a car accident sends Simon to the hospital with a severe internal bleeding in his head. After some time in a deep coma, surgery is no longer an option, and the pair of medics responsible for his case considers him perpetually braindead. Thomas (Tahar Rahim) is the most attentive and considerate of the doctors as he explains to Simon's parents, Marianne (Emmanuelle Seigner) and Vincent (Kool Shen), that organ donation is something they should consider. Even not pushing them in any way, he makes clear that this must be a fast decision as all the organs are still working properly. One can only imagine how this must be a difficult decision for the parents, who just lost their only child and now have to ponder about what to do with his body.
The storytelling then veers to Paris, where we find Claire (Anne Dorval), a single mother of two, pretending she was dead on the bed. It was a prank for her sensitive younger son, Sam (Théo Cholbi), whom she suspects is gay. Maxime (Finnegan Oldfield), the first-born, exhibits an earnest personality and doesn't understand why she lies to Sam, concealing her true state of health. In fact, Claire is dying because of the increasing dilatation of her heart. Believing that her time has come, she inadvertently seeks for her ex-lover, Anne (Alice Taglioni), a classical pianist who, surprised to see her, becomes appalled by the news of her illness. Notwithstanding, Claire has one last chance to live if she agrees to take Simon's heart.
"…the light and hope emanated from the story."
The medical team at the hospital composes the remaining segment of a tale whose perspective evolves not only with throbbing drama and expectation but also with a priceless optimism.
Even occasionally lacking fluidity in some passages, Heal the Living adopts an altruistic and positive posture, appealing as much to reason as to emotions.
A slow-and-steady, measured pace was deliberately assumed in order to earnestly encompass the least detail in this peculiar and blurry cycle of life and death. At the film's terminal point, the light and hope emanated from the story touched me, pumping my mood and elevating my spirit. However, by then, I just wished I had experienced this exalted state long before.
Heal the Living (2017) Directed by Katell Quillévéré. Written by Gilles Taurand and Katell Quillévéré. Starring: Tahar Rahim, Emmanuelle Seigner, Anne Dorval
6 out of 10