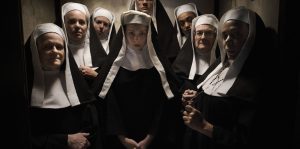 FANTASTIC FEST 2021 REVIEW! In most synopses I have seen, co-writers John Selvidge and Mickey Reece's Agnes is presented as a film about demonic possession. I thought it was the focal point, but I should have known better because Reece also directs the feature. He has a way of taking genre material and turning it into something philosophical, which he did deftly with his last picture, Climate of the Hunter. Don't get me wrong, there are plenty of demonic voices and things moving of their own accord. It's just not the meat in the sandwich, as it were. That would be faith in general and what it looks like for different people when they lose it.
Agnes (Hayley McFarland) is a nun at St. Theresa's convent, which is very traditional. It is so strict that the nuns don't leave the grounds, and austerity is demanded in spades. This is partly due to Mother Superior's iron fist (Mary Buss). Her faith is steeped in the Catholic traditions, so she is none too pleased when Father Donaghue (Ben Hall) arrives at the convent to stage an exorcism with an unordained acolyte accompanying him. However, she doesn't have anything to worry about because said acolyte, Benjamin (Jake Horowitz), is the picture of a perfect priest-in-training.
Father Donaghue, however, has a much less traditional methodology. First of all, he doesn't believe in demons, saying that they're "medieval" tall tales. He believes that the only reason the exorcisms work is that the people receiving them believe in God. Father Donaghue has exceptionally bad luck with his first try at exorcising Agnes. The experience scares him, and the priest is now reexamining his tune on the existence of Satan's spawn.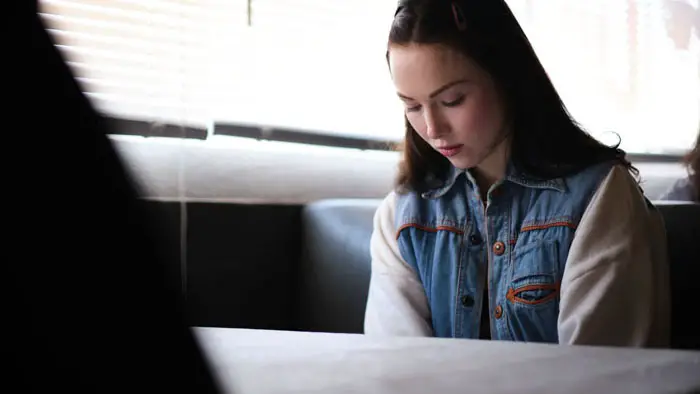 "Father Donaghue has exceptionally bad luck with his first try at exorcising Agnes."
The second half of Agnes, which involves excommunicated priest Father Black (Chris Browning) and more intense attempts at an exorcism, could be attached to another movie because it's so different in tone and story. It's really about Mary's crisis of faith, though, to the point that she leaves the convent. After being in the convent for so long, Mary tries to find her bearings in the real world, gets a job at a grocery store, and goes on a date with comedian Paul Satchimo (Sean Gunn). Yet nothing fills the void that used to be occupied by God.
I love all of the Mickey Reece films I've seen. He is one of the few modern independent filmmakers today who has a very singular voice and vision. His only rivals in that regard are the Safdie Brothers. If you've seen one of Reece's productions, you can tell when you're watching another one. It could be that he often uses the same actors. But there is more to it than that. The worlds he builds for each movie appear to be stark and simple at first glance but are always rich with meaning. Reece is not an auteur per se because his attitude is much more guerilla. He's all about getting the finished product out to audiences, no matter what. Yet, he always manages to make something amazing.
Even with low budgets, Reece's films are always high quality, and Agnes is no exception. The only different thing this go-round is that Reece cast a couple of "names," in Rachel True and Sean Gunn, alongside his usual team of excellent actors, including Ginger Gilmartin, Mary Buss, Ben Hall, and Jacob Ryan Scovel. I can only hope that as Reece's career progresses, he gets bigger budgets and better resources. His vision is certainly deserving of that, and this is just more proof of his talents.
Agnes screened at the 2021 Tribeca Film Festival, the 2021 Fantasia Fest, and the 2021 Fantastic Fest.