John Hawkes stars in Francis Stokes' low budget 2003 Indie film Harold Buttlman, Daredevil Stuntman. The film has been re-mastered from the original 35mm print for a clean new digital life releasing on Feb 2, 2018. Hawkes is well known now but In 2003 he was just starting out: before Deadwood, Winter's Bone, Lincoln, The Sessions, and Three Billboards Outside Ebbing, Missouri.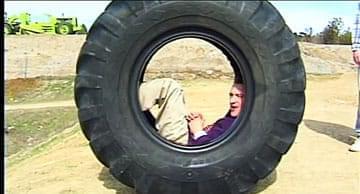 "…big break comes in the form of a 3 am spot on the local late night cable access channel. "
This is a quiet movie about small town losers dreaming of fame and fortune. Harold Buttleman (Hawkes) and his stoner friend Doug (Stephen Falk) make (camcorder) videos of his stunts for Harold Buttleman Productions, the platform meant to launch them all to fame and riches in the far off mythical city of Hollywood. The energy all comes from Hawkes, who is charming and relentlessly upbeat as the low rent Evel Knievel wannabe living in his parents basement.
Harold's big break comes in the form of a 3 am spot on the local late night cable access channel. While fame, wealth, and love are eluding him, Harold's parents want him to move out and his girlfriend wants him to settle into a career selling bathtub parts. Harold never loses heart even when he probably should. There's a bit of the golly gee whiz of Christopher Guest style mockumentaries in Harold's denial.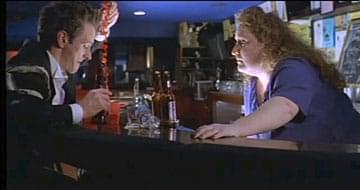 "Harold is the archetype lovable loser."
An early entry into the middle-class-people-who-are-not-terribly-bright-are-funny genre, the film feels dated now. It came out two years after Mark Borchard's American Movie while Jackass was still on MTV,  years before social media videos of Russian teenagers hanging (and sometimes falling) from skyscrapers. We're jaded. In 2018 this schtick seems tired.
However, let's peer back past cynical filters accumulated like greasy buildup of years of stories about "flyover" people oversimplified and served up as sideshow entertainment to try to see the film in its original context. In that light, if you can get there, it's an entertaining artifact of the early noughts. Harold is the archetype lovable loser. 15 years ago this would have seemed a mildly irreverent amusement, gentle humor about small town aspirations.
But in 2018 there's a dark undercurrent of hopelessness at the loss of the American dream. We had always believed success was reachable with nothing more than pluck and ambition. That's gone now and we mourn it. As a nation about half of us voted for a guy for President who is wildly unfit for the office because he promised to bring it back. 
Many of the cast members went on to fame. Aside from Hawkes there are early performances from Anita Barone (Desperate Housewives), Writer Stephen Falk, Rusty Schwimmer (The Perfect Storm), and Dan Castellaneta from The Simpsons in a cameo as the human cannonball.
Baltimore band Splitsville is featured on the soundtrack bringing the alt-pop songs that were everywhere in '03. John Hawkes is always a power source on screen and Harold Buttleman is worth seeing for this early performance.
Harold Buttleman, Daredevil Stuntman (2003). Written and directed by Francis Stokes. Starring John Hawkes, Anita Barone, Stephen Falk.
6 out of 10