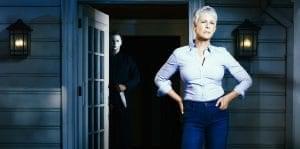 Laurie Strode comes to her final confrontation with Michael Myers, the masked figure who has haunted her since she narrowly escaped his killing spree on Halloween night four decades ago.
David Gordon Green's Halloween comes from the right place; there's no questioning that. Throwing out every other Halloween film in the franchise except for the original from 1978, this sequel picks up 40 years after the events in the first film. It's an attempt to tap into the source artery of the magic that made the original work. Regrettably, like the well-intended box of raisins handed out as trick or treat candy, the movie makes the gesture but misses the function of the first film almost entirely. We want an efficient little thriller about the boogeyman, we get a contemporary commentary on trauma that is peppered with scary bits.
The film begins with a cold open on a pair of half-witted British podcasters visiting Michael Myers at the Sanitarium. It's the day before the ruby anniversary of Michael's infamous killing spree in Haddonfield, and the investigative pair hope to get Michael to speak. In what is a pleasantly creepy moment, Michael's original mask is pulled from a satchel, Michael is triggered, and the asylum erupts into screams, rants, and howls, and the other inmates pick up on the bad mojo and energy that has been stirred.

We next cut to Laurie Strode (Jamie Lee Curtis) who has been living with the traumatic memories of surviving the mass murder. Time has not been kind to her. Haunted by the thought that, inevitably, she will someday come face to face with Michael again. She has lived through two failed marriages, estrangement from her daughter Karen (Judy Greer) and has become the ultimate badass recluse with a full arsenal of weapons and a hidden panic room. Okay, so the last part is pretty cool and has some nice things about it, but… The only familial connection that Laurie has anymore is with her granddaughter Allyson (Andi Matichak) who sees through the history and actually digs her trippy gramma.