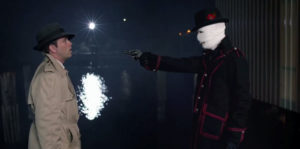 Gumshoe! (a.k.a. Help! My Gumshoe's An Idiot!) is one of those comedies in which everything's a joke. If the dialogue isn't humorous, then the scene has some background gag going on that is silly for its own sake. This style of comedy is not for everyone, as it can become overwhelming, even exhausting, if not handled with precision. Does writer-director Michael Webb delicately walk that line, or does he overstuff his debut with too much muchness?
Private eye Biff Basham (Arnie Pantoja) is hard up for cash, having to sell almost everything he owns, including pawning his only friend, a goldfish. However, his luck seems to change for the better when Krista (Rachele Brooke Smith) hires him to help her deliver blackmail money. However, Krista's husband is killed, which sends Biff into a deep web of cover-ups, double-crosses, and deadly fonts. Is the dimwitted but sweet detective in over his head, or can Biff prove his mettle and bring down the evil organization at the center of all this madcap chaos?
Gumshoe! is mostly a funny experience, though it does have some problems. The biggest one is a question: just when is the story set? Biff seems to have just come out of a 1940s Bogart picture, which is part of his whole schtick. As such, that works, but there are no attempts to update how he does things. Add in Krista's traditional femme fatale (or is she?), only quirkier, and the modern-day (?) setting seems off. Even though streaming and the internet are explicitly shown to exist here, neither of them seem to understand this. But fine, that's the joke behind these two characters. However, this strangeness extends to the supporting roles as well, causing some genuine confusion on how any of these people have survived into adulthood.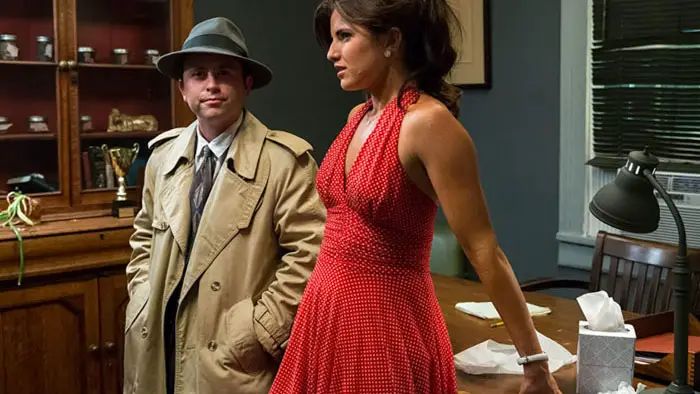 "…can Biff prove his mettle and bring down the evil organization…"
While not all the visual gags work or are funny — a person dressed as a Viking (?) blowing a horn that sounds like a foghorn is especially moronic, in the worst way — the screenplay is filled with zingers and a ratatat pace. From Biff checking in on his goldfish at the pawnshop to the absurd plot of the nefarious organization, most of the dialogue is so outlandish it is amusing to downright hilarious.
Pushing Gumshoe! into the solidly recommended category is the actors. Pantoja has the right amount of goofy charm and assured charm to make Biff more than just a cartoon character. Smith makes Krista a solid comedic foil to the hapless detective, ensuring that their screen time together (most of the film) is always as funny as possible. Luckily, the supporting cast also understands the kind of farce they are in and delivers in a big way.
Gumshoe! might annoy some audience members, as it is overstuffed with gags, with nary a moment to breathe. Plus, the setting is confusing and doesn't work with the characterizations at hand. However, the actors are terrific, the plot is the right amount of silly, and the dialogue is entirely zany. As such, while flawed, the movie is tons of fun.