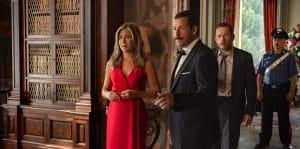 It's summertime, which for many means it's time for a vacation. That goes for the folks over at Happy Madison productions, who have centered their latest film around a paid vacation. Not that you can blame them. The cobblestone roads and dotted hills of France ebb and flow with the breezes of Monte Carlo. There are sumptuous yachts, rosy dresses and a pair of shining stars, who at this point could sell water to a well. Adam Sandler and Jenifer Aniston have been making hits for decades. This one is more of the same, an organized comedy that makes way for a disorganized plot. 
The plot is a clueless version of Clue. A couple lumbering New Yorkers get mixed up in a breezy Agatha Christie mystery. But the result is a mystery without mysticism. Sandler plays Nick Spritz, a spirited slob who can't pass the exam to become a detective. Armed with a Hawaiian shirt and a Colin Firth mustache, he's determined to give his wife their long-awaited honeymoon. Aniston plays the wife, Audrey, with grace–almost too much grace for the lazy material. You will need a map to get out of her piercing blue eyes, but when the camera isn't on her, the movie gets lost in its repetitious story. Just go with it you won't. 
"Like all great detective yarns, all the suspects are indeed suspects."
None of that will matter at the streaming service equivalent of a box office. Netflix subscribers are sure to enjoy the twists and turns, and Murder Mystery provides those in abundance. Thanks to screenwriter James Vanderbilt, who has clearly done his homework. Like all great detective yarns, all the suspects are indeed suspects. One look at the lineup and your fingers will be pointing all over the screen.
There's the suave Charles Cavendish (Luke Evans); and yes, he is as pompous as his name would suggest. He's invited these two normal folks to his families yacht, in order to bring some buoyancy to shallow waters. Charles is there to celebrate his billionaire uncle's marriage to his once fiancee. If that isn't motive enough, the entirety of his will is under the gold digger's name. Surprise, surprise… the night ends with a dagger in the uncle's chest. 
The rest of the picture is comprised of awkward reaction shots, sun-kissed villas and shifting suspects. The guessing game is fun for a while. Could it be Toby (David Williams), the disgraced son? Perhaps it was the Formula One driver (Luis Gerardo Mendez), or the luscious actress (Gemma Atherton), or the luscious actresses lover (Adeel Akhtar)? Maybe it was the menacing colonel (John Kani) and his meaty bodyguard (Ólafur Darri Ólafsson)? They all have motives, and the Spritzer's are just happy to be along for the ride. 
"It's rarely clever enough to be funny nor frightening enough to be suspenseful." 
I would be too, having gotten paid to go to France. And these two seem to be having fun. The childish rapport on the mystery genre is quite funny. Jokes about genre cliches like "the butler did it" bounce off each other like champagne bubbles. Making it a shame that director Kyle Newacheck's mixing of genres is so flat. It's rarely clever enough to be funny nor frightening enough to be suspenseful; leaving it to sag like Sandler's cargo shorts. 
The biggest mystery soon becomes: Why make this movie in the first place? Besides to give these hardworking actors an overseas vacation. Even then, we never feel close enough to these characters for it to feel like our vacation. Aniston at one point rhetorically asks Sandler, "When's the next time we're going to get to go on a yacht?" The answer will come whenever Netflix decides to fund their next getaway. 
Murder Mystery (2019) Directed by Kyle Newacheck. Written by James Vanderbilt. Starring Adam Sandler, Jenifer Aniston, Luke Evans, Gemma Arterton, Shioli Kutsuna, Adeel Akhtar, Luis Gerardo Méndez. 
4/10