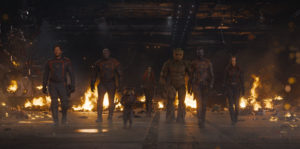 But what Gunn does right and why this ultimately succeeds is the characters he so obviously cares for. At the heart of Guardians of the Galaxy: Volume 3 is the Guardians themselves. Everyone has plenty of screen time and their moments to shine. Each one has been well-designed and crafted from the previous two entries as well as the Avengers movies. The fun is in their interactions as this dysfunctional but loyal family, and Pratt stands strong as their highly flawed and emotionally distraught leader. Unlike the first film, the team's motivations have come full circle in that they are willing to risk their lives for one of their own.
There are some pretty cool action sequences. Gunn defines superhero teamwork when the Guardians must fight together in the big battle at the end. Let's also add cameos up the wahzoo in Nathan Fillion, Elizabeth Debicki, Maria Bakalova, Nico Santos, Linda Cardellini, and the Sly one himself.
"…the reason to see the movie is the Guardians themselves…"
You also need a great villain, and Chukwudi Iwuji, as The High Evolutionary, is fantastic. Mainly because the character is so well-defined, you understand his god-like motivations right off the bat. His moments of sweetness toward his creations turn to that of menace when his plans are constantly foiled. He is threatening and formidable.
Guardians of the Galaxy: Volume 3 has way too much story crammed in its two-and-half-hour runtime. But the reason to see the movie is the Guardians themselves and how they've grown and evolved since they were first introduced. This is the perfect end to a wonderful story about a band of misfits motivated purely by selfish reasons who now come together as a team and family.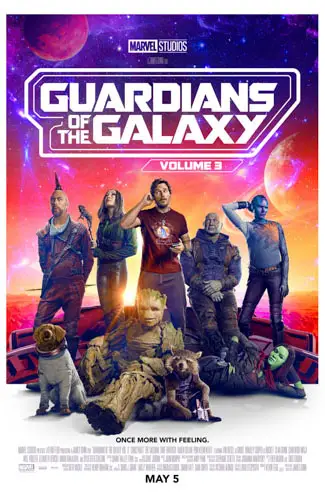 "…the loving final chapter for our intrepid heroes..."