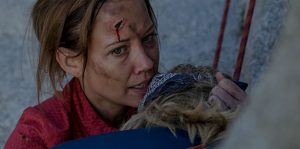 "Independent film is like an alpine climbing adventure. SO many false summits, only to find you way off-route and impending bad weather threatening to shut you down along the way and digging deep to keep climbing through adverse conditions with the dream of standing on the summit with your mates" – Ben Galland.
Opening with a Rusted Root – Send Me On My Way kind of vibe, complemented by and accompanied with a sequence of equally stunning and enticing shots much like the music video – Gripped: Climbing the Killer Pillar captures the contrasting and striking wilderness of the Sierra Nevada mountains of California with some refreshingly original introductory shots of the landscape and characters to centre the audience and allow them to find their own focal point in the movie without being thrown into it from the first pitch and being told how and what to watch.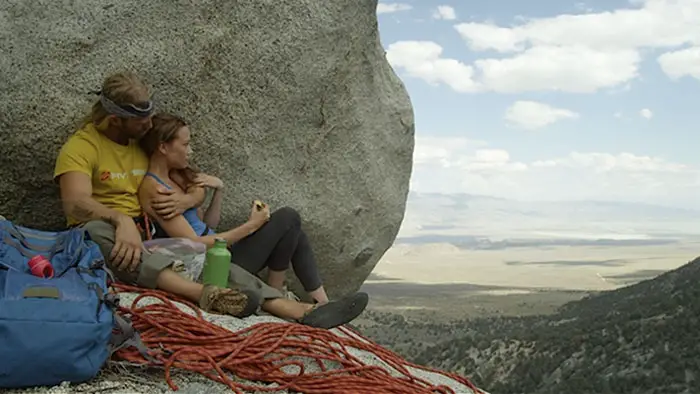 "Rose 'pitches' to Bret her want to ascend the route 'Killer Pillar' – a 1,000 ft grade 5 multi-pitch 'commitment.'"
The great thing about this film is that it gets stuck-in to the core of the piece straight away without waiting an unnecessarily long time for the classic roll credits title mention moment. Instead, Rock Climbing is the number one "route" on the agenda, with out-of-towners Rose (Amanda Maddox) and Jade (Megan Hensley) trying their Los Angeles City hands at assailing a bouldering wall right after the introductory credit sequence. They find themselves sarcastically scorned by the physically-aesthetic bare-chested long-haired rock climbing "expert" Bret (Kaiwi Lyman), who obviously knows what he is doing—both professionally and socially speaking. As Rose and Jade return to the community car park, they are "greeted" by other jealous and threatened climbers lead by Catrina (Natalie Duran), seeking to embarrass and belittle them in a very blatant "locals only" manner which occurs invariably and classically in outdoor sport across the globe.
There is justice, however, as Bret and his friend Bryce (Bryce Wissel) invite Rose and Jade to their campsite for the evening, which sparks the romantic flair between Bret and Rose in a seemingly "Oh you're so brave, it's so scary" and "No it's not I'm a man. I sleep outside in a sleeping bag" repartee. Nevertheless, Rose's point of view regards the radical climbs and those who climb them as extremely reckless and yearning for a "death wish." Bret coolly responds with a highly intelligent and grounding line that both characters "tie on" to throughout the entire movie – "Climbers actually have a life wish, if we wanted to die, we'd just let go." In the bigger picture for really living life, if you don't want to die, don't let go. Climb or die, "It's not the mountains we conquer – but ourselves" – Edmund Hillary.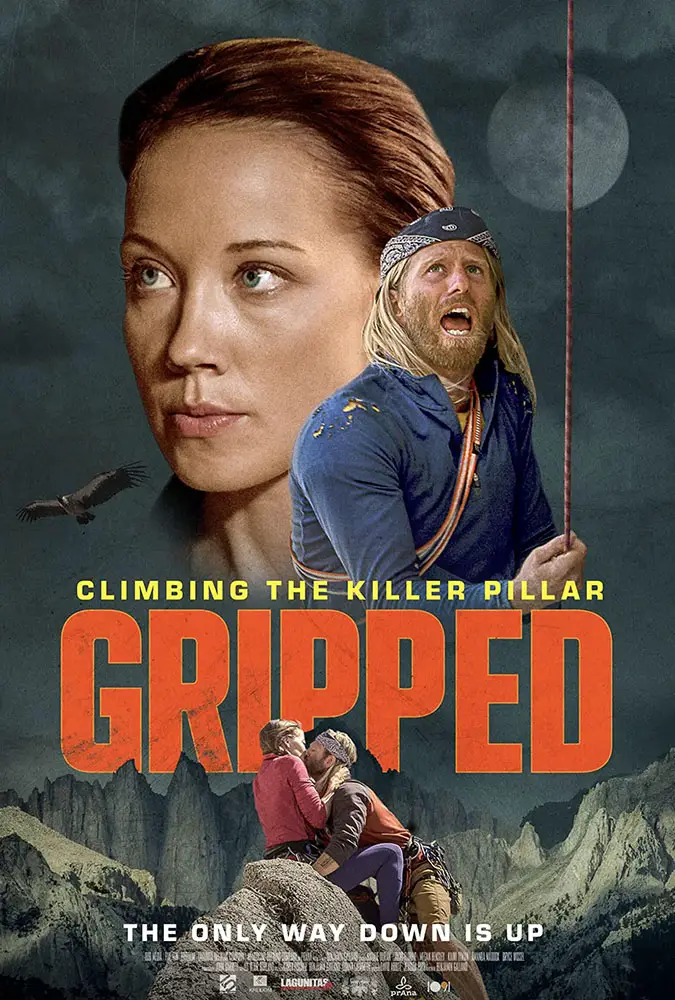 "…makes you feel as if you have missed a hold and are falling to your death..."