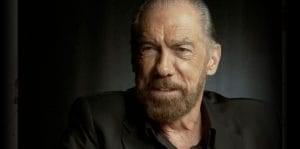 I remember this episode of Shark Tank vividly. Inventor/farmer Johnny Georges present his invention, Tree T Pee. It is a tent placed at the base of a tree, that acts as a self-contained irrigation system. It reduces a young tree's water needs from 25,000 gallons a year to 800 gallons.
The sharks were eager to invest in this revolutionary, yet simple, solution until they found out Johnny only wanted to earn a one-dollar profit on each unit. Each shark thought Georges was crazy, except one. It was guest shark John Paul "JP" DeJoria who understood Georges' motivation not to overprice his fellow farmers for profit sake. JP was the only judge to invest in Tree T Pee, and he gave Georges his proposed investment.
From directors Joshua and Rebecca Harrell Tickell, Good Fortune is the story of that unorthodox investor John Paul DeJoria—a man who lived a life of extremes. Today, JP is the founder and CEO of John Paul Mitchell Systems and the owner of the high-end Patron Tequila. Early in life, JP was a homeless father surviving on the street of Los Angeles with his son. Growing up, John Paul would experience one tragedy after the other from a deadbeat father to the death of his only brother and the death of his longtime business partner, Paul Mitchell.
"This is not just a rags-to-riches story but a story about what one person did with those riches."
The cynical side of me asks why I would want to watch a documentary about a man, who is filthy rich and lives a lifestyle, I can only dream about. Fair question. This is not just a rags-to-riches story but a tale of what one person did with those riches. As a boy, JP's mother gives him a dime for the Salvation Army bell ringer on the street corner. She told him that the Salvation Army helps people and when you think about what little you have, know that someone else always has less.
John Paul also shows that profitability does not need to come at the expense of the environment. Paul Mitchell hair products were the first national brand to ban animal testing. His Patron Tequila facility in Mexico is state of the art, and his workers receive generous wages. Not to mention, that John Paul also pioneered the solar power generators and developed the first solar-powered race car in the 80's.
Good Fortune informs and inspires. Theatrically narrated by Dan Ackroyd, writer Johnny O'Hara uses personal interviews along with well-produced re-enactments to bring JP's story to life. Let's face it. When you grow up poor, you don't have a lot of pictures, let alone film footage of your childhood. These segments bring context to DeJoria's life without feeling cheesy.
John Paul sets a high standard for his fellow "one percenters." It's easy to sit alone in your mansion and write a check believing you've done your part for humanity. DeJoria believes his charitable accomplishments must rival his financial ones by not just donating money but also donating time, resources and passion. JP is personally involved in every charitable cause he touches. He often acts as a cheerleader to these unsung heroes.
Good Fortune is not a film that shames the rich. It doesn't hit audiences over the head with a moral mallet. Good Fortune is about a man who sets an example of personal philanthropy. No matter where you fall on the economic spectrum, John Paul's story is the inspiration for everyone to give. As they say, "It takes a village."
Good Fortune (2016) Directed by Joshua Tickell and Rebecca Harrell Tickell. Written by Johnny O'Hara. Starring John Paul DeJoria and Dan Ackroyd.
4 out of 5 stars